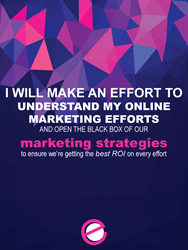 The days of asking clients to "trust me" are gone. They should be.
Andover, MA (PRWEB) January 06, 2015
Effective Student Marketing, a leading digital marketing firm serving higher education clients across the country, has shared its insight with 9 New Year's Marketing Resolutions for 2015. The resolutions challenge CEOs, presidents and other school leaders to think beyond traditional marketing and demand measurable results from all their marketing efforts.
From breaking open the "black mystery box of marketing," to allowing students to become brand ambassadors, the resolutions emphasize transparency and accountability over secrecy and subterfuge.
"Marketing in the digital arena means being honest and open to new ideas and new ways of reaching a client's goals," said Effective Student Marketing president Andy Kelley. "The days of asking clients to 'trust me' are gone. They should be. As digital marketers, we need to be fully transparent and willing to show our clients what we're doing on their behalf and what's working. We also need to own up to what doesn't work and then fix it. At my company, I make sure our campaigns have results our clients can measure."
Noting that digital marketing is truly a "moving target," Kelley said that he and his staff are proud to share their latest insights into the marketing techniques that work and those that no longer do. Their "marketing resolutions" invite school leaders to embrace change and commit to the empowerment of using new ideas for the benefit of their institutions and their students.
Some of the ideals advocated in the Effective Student Marketing resolutions are:

Understand and optimize the return-on-investment of online marketing efforts
Focus on students and graduates for authentic messaging and increased online engagement
Create branded, school content that others will want to share
Forgo traditional television advertising in favor of targeted digital marketing
Fiercely guard a school's online reputation
To learn more and see all 9 New Year's Marketing Resolutions for 2015, visit the Effective Student Marketing website.
About Effective Student Marketing:
Effective Student Marketing is a digital marketing agency that embraces transparency and results-oriented marketing. It integrates marketing strategies that use social media marketing, pay-per-click advertising, and content creation to help institutions of higher education engage with students, graduates and future students to achieve their student enrollment and retention goals. Andy Kelley founded the company in 2004 and he and his team have a "we'll figure it out" philosophy that combines creativity and technology to stay on top of the latest tactics and trends in the digital marketing industry for higher education. You can find more information about their services at effectivestudentmarketing.com.