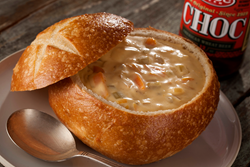 M.I.O. has made it their goal to provide... new and improved recipes using M.I.O. products.
Oklahoma City, OK (PRWEB) January 05, 2015
The Made In Oklahoma Coalition knows that with every New Year come new resolutions. Whether it is trying something new, bettering your lifestyle, or even smiling more, everyone enters the New Year with new goals. For 2015, M.I.O. has made it their goal to provide new and improved recipes using M.I.O. products. To start the year off right they have paired with their members to bring some hearty meals that the whole family will enjoy: Choc Beer Cheese Soup, Polish Sausage Chowder, and Apple Cinnamon Bread Pudding. So, grab an apron and a cooking hat, and show everyone what 2015 has to offer!
The Made in Oklahoma Coalition offers delicious dining ideas while promoting food products manufactured in the state. For these unique recipes, M.I.O. has partnered nine Oklahoma based member companies to help prepare these recipes: Hiland Dairy, Andrews Honey Bee's, Griffins, Prairie Wolf Spirits, Bar- S, Head Country, Shawnee Mills and Daddy Hinkle's.
Choc Beer Cheese Soup
1 tbsp Hiland unsalted butter
1 onion, chopped
3 carrots, chopped
3 celery stalks, chopped
2 cloves garlic, minced
4 tbsp Shawnee Mills flour
1 cup Miner's Light Choc Beer
4 cups broth
1 cup Hiland whipping cream
3 cups cheddar, shredded
1 tbsp Griffin's Jalapeno Mustard
1 tsp Daddy Hinkle's Onion and Garlic Liquid Meat Marinade
1/4 tsp pepper
1/8 tsp cayenne pepper
salt to taste
bread bowls
Instructions:
Melt butter in the bottom of the stockpot. Add in the onion, carrots, celery and garlic. Sauté till tender. Sprinkle the flour over the veggies. Stir to coat all of the veggies with flour. Add in the beer and broth. Bring this to a boil. Reduce heat and add in the cheddar cheese, whipping cream, Daddy Hinkle's marinade, pepper, cayenne pepper, mustard and salt. Stir till cheese is melted. DO NOT BOIL. Serve in mugs or a sourdough bread bowl.
Polish Sausage Chowder
2 pkgs. (12 oz. each) Bar- S Polish Sausage
2 cups white onion, diced
4 cups red potatoes, scrubbed, diced
1 cup celery, diced
4 cups chicken broth
2 cans (14.75 oz. each) cream-style corn
1 pint Hiland Half-and-Half
1/2 cup freshly chopped parsley
1 tsp. Head Country Championship Seasoning
1 tsp. dried dill weed
Salt and freshly ground black pepper, to taste
Instructions
Slurry, to thicken: 2 tsp. cornstarch, dissolved in water, optional
Slice Polish Sausage in half lengthwise, then cut into 1⁄2 inch slices. In a large stockpot, lightly brown sausage and onions. Add diced potatoes, celery, and chicken broth; simmer until potatoes are just tender. Stir in corn, half-and-half, parsley, dill, Head Country, salt and pepper to taste; simmer until heated through, about 10 minutes. Thicken if desired, using a slurry, then enjoy!
Tip: To thicken any soup, stew, chowder, or gravy, a slurry is all you need! I like to use cornstarch, since it will thicken almost instantly. Combine one part cornstarch to two parts cool liquid, such as water or broth; mix well to dissolve any lumps. Slowly add the slurry to the simmering liquid, stirring constantly. Start with a few tablespoons of the slurry, and proceed with a bit more at a time, until the desired thickness is achieved.
Apple Cinnamon Bread Pudding
8 slices cinnamon bread, cut into 1-inch cubes
1 Granny Smith apple, chopped
1⁄2 cup raisins
4 eggs
2 cups Hiland Whole Milk
1⁄4 cup Hiland Unsalted Butter, melted
1⁄4 cup granulated sugar
1 tablespoon Andrews Honey Bees Cinnamon Cream Honey
1⁄2 teaspoon Griffin's vanilla
1⁄2 teaspoon ground cinnamon
Sauce
2 Tbsp Prairie Wolf Spirits Dark coffee liqueur
1⁄4 cup Hiland Unsalted Butter
2 cup Powder sugar
Instructions
Spray slow cooker with nonstick cooking spray. Place cubed bread in slow cooker.
Sprinkle bread cubes with chopped apple and raisins. In a medium bowl, whisk together eggs, milk, melted butter, sugar, honey, vanilla and cinnamon. Pour over bread. Cover and cook for 3 hours. Bread pudding is done when a wooden pick inserted into the middle comes out clean. For the sauce melt butter in saucepan remove from heat add Prairie Wolf Spirits Dark coffee liqueur and stir in the powder sugar until fully combined.
The Made in Oklahoma Coalition provides a marketing and promotional platform to assist more than 45 current Oklahoma food manufacturers. M.I.O.'s marketing programs build brand preference and loyalty for member products. Coalition-member companies create a positive impact on the Oklahoma economy by helping put more than 27,000 people to work. These member companies generate over 3.5 billion in annual sales for Oklahoma. Collective and cross-marketing programs, organized by the coalition, increase sales throughout the state, nation and abroad. The M.I.O Coalition continues to expand the footprint of Oklahoma's food processing sector through business retention and stable growth. M.I.O., Good for you. Good for Oklahoma. For more information visit http://www.miocoalition.com.