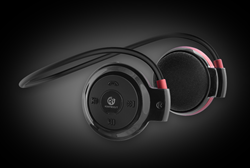 Rokit Boost Announces Performance Upgrades to SWAGE Sport Bluetooth Headphones
New York, NY (PRWEB) January 19, 2015
Since their launch earlier this year, Rokit Boost's high-performance SWAGE Sport wireless headphones have been making waves. Just in time for the fall, the SWAGE Sport headset is back in stock with new enhancements for a greater listening experience.
The SWAGE Sport headset has been upgraded to have a better-performing wireless connection. Now users can enjoy their favorite tunes in these wireless headphones' trademark superior audio quality, but with fewer sound interruptions than before. Many people have found the SWAGE Sport headphones make a great addition to their workout regimen. With their flexible-and-comfortable headband design and superior audio quality, they enable easy, hands-free listening while people run, jog, or put in some quality time at the gym.
Outstanding Performance Value and Easy Wearing
The SWAGE Sport is equipped with Bluetooth V4.0 technology, meeting high standards for wireless connectivity. AtpX® support backs the headset's wireless capability for premium-grade Bluetooth stereo audio quality. Superior noise-cancellation technology and playback ability add further value to the mix, as they make it seem like users are directly in the studio listening to their favorite artists. The mobile accessory requires little charging and can be used for hours of wireless listening, talking to family and friends, or getting the most out of one's favorite mobile device.
Comfort is a foremost priority for today's mobile lifestyle brand enthusiast, and Rokit Boost shows a careful understanding of that in this headset's product design. Equipped with a flexible and conformative headband design, the SWAGE Sport headphones easily loop around a listener's ears so they can be used for any workout activity.
Modeled to Contemporary Aesthetics
The Bluetooth headset's exceptional audio quality and functionality are complemented by its strong aesthetic appeal. The SWAGE Sport is available in two color options: solid black and a darker, mid-tone red. In line with today's high mobile lifestyle standards for appearance, Rokit Boost has engineered the headphones with a vibrant, contemporary design. They have an easily-storable, lightweight body and with their crystal-clear audio and overall functionality, users will be impressed by the lasting, affordable value they deliver.
Product Availability
Rokit Boost's SWAGE Sport Bluetooth headphones are available for $49.99 on Rokit Boost's online store. Additionally, Rokit Boost offers an entire line of high-performance mobile accessories, including smartphone battery cases, power banks, Bluetooth speakers, wireless keyboards, and more.
More details, including pricing, Rokit Boost's 30-day money back guarantee, and the wireless headphones' one-year warranty can be found at: http://www.RokitBoost.com.
About Rokit Boost
Rokit Boost is a pioneer of affordable, high-quality mobile accessories. Whether they are innovations including iPhone charger cases, Bluetooth headphones, or wireless Bluetooth speakers/microphones, Rokit Boost's team seeks to add substantial enhancements to great existing products. The company also offers a refurbishment program of certified products for exceptional customer value, at reduced pricing.