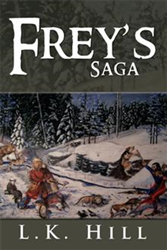 No matter what happens in life, one can always forge their future.
OLD SAYBROOK, Conn. (PRWEB) January 07, 2015
What would you do if you were kidnapped by Vikings?
In Frey's Saga, author L.K. Hill weaves an adventurous tale of a young monk's life in Norway following his capture by Norse seafarers.
During his captivity in the small coastal village, Frey struggles to survive within a world of raiders, berserkers, thralls, wolves, death, murder, battles, gossip and treachery, all while finding courage, love and family.
Frey's story is one of tenacity, and contains the message of never giving up. "No matter what happens in life, one can always forge their future," Hill said.
Not only a story of bravery, self-sacrifice, and overcoming life's obstacles, Frey's Saga also shines a light on Viking culture, offering an alternative to the wide-held belief that the group consisted only of ruthless barbarians.
"There has always been misconceptions that are said and written about the Vikings, their culture, beliefs and religion," Hill said. "I wanted to put that to rest."
Frey's Saga
By L.K. Hill
ISBN: 978-1-4771-4464-0
Available in softcover, hardcover and e-book
Available on Amazon, Barnes and Noble and Xlibris.
About the author
L.K. Hill is a certified nurse's aide and graduate of the Institute of Children's Literature. She has written numerous short stories, and has strong interests in Paganism and Viking culture. She is married with two sons, and is a lifelong Connecticut resident.
# # #
For review copies or interview requests, contact:
Jennifer Uebelhack
317.602.7137
juebelhack(at)bohlsengroup(dot)com