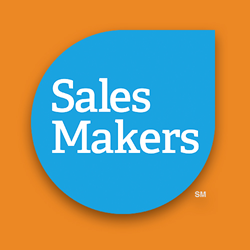 "The dynamic new SalesMakers brand evolved from what the company has always been about—sales results for their clients"
St. Petersburg, Fla (PRWEB) January 06, 2015
President and Chief Executive Officer Jimmy Ralph today unveiled a bold rebrand of Retail Business Development, one of the nation's fastest growing third-party labor (3PL) assisted retail sales companies. The St. Petersburg, Florida based, privately held corporation is now known as SalesMakers, Inc.
The ambitious effort, which included development of a new SalesMakers message strategy, striking "rainmaker" logo, http://www.SalesMakersInc.com responsive website, corporate video and other promotional tools, was developed in collaboration with the firm's branding agency of record, Pyper Young, Inc., also of St. Petersburg.
The new tagline, "Retail Pros. Ready to Go.", sums up the message that SalesMakers builds assisted sales performance and profitability faster, easier and more reliably. The launch of the new brand aligns with the 2015 International CES® (Consumer Electronics Show) in Las Vegas, which happens January 6th-9th.
"The dynamic new SalesMakers brand is client oriented. In fact, the new name evolved from what the company has always been about—sales results for their clients," remarked Pyper Young Account Director and Co-Founder Tracy Young. "The result of an intensive strategy, design and creative process, it will appear consistently across all SalesMakers communications touch points. The strong brand platform provides a means for SalesMakers to be more efficient in its branding process, and sets them apart in the competitive retail 3PL marketplace."
Ralph adds the client perspective. "The timing of the rebrand is perfect as we extend our national platform. We're an evolving, twelve-year-old company, and the no-holds-barred SalesMakers name sets in motion great momentum to carry us forward." He adds, "Our people, our system and the solutions we offer are focused solely on building the bottom line for our clients, and we now have a strong, energetic, modern and engaging brand that showcases that."
About SalesMakers
http://www.SalesMakersInc.com | 866.869.6975
Headquartered in St. Petersburg, Florida and operating nationwide, SalesMakers, Inc. (formerly Retail Business Development) provides a wide range of retail services geared toward revenue generation and product and services sell-through. The company's expertise includes assisted sales, event sales, and kiosk sales, along with sales force training, management and consulting services. The Tampa Bay Business Journal recently recognized SalesMakers as one of Tampa Bay's 50 fastest-growing companies.
About Pyper Young
http://www.PyperYoung.com | 727.873.1210
Pyper Young is a full-service, integrated marketing communications agency located in downtown St. Petersburg, Florida. The agency develops comprehensive programs and strategic partnerships to provide the complete 360-degree approach to marketing that clients need to grow their business and maximize return on investment.