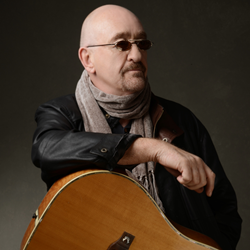 Fairfield, CT (PRWEB) January 05, 2015
Fairfield Theatre Company starts the new year off with a bang as they welcome Rock and Roll Hall of Famer Dave Mason and his Traffic Jam experience to the Norwalk Concert Hall at 8 p.m. on Thursday, Jan. 8.
With an astonishing career spanning several important rock eras, there's no question as to why Dave Mason is considered a living rock legend. His storied career began at age 18, when the Worcester, England native teamed up with Steve Winwood, Jim Capaldi and Chris Wood to form the now renowned rock band, Traffic.
Considered one of the originators of the cutting edge music of the late-sixties music scene, Traffic brought a unique sound to a time of rapid and remarkable evolution that expanded rock's sonic palette with classic hits such as "Paper Sun," "Hole in My Shoe," "Feelin Alright" (which Mason wrote as a teenager) and of course, "Dear Mr. Fantasy." The music Traffic created has continued to find its way into the hearts as well as onto shelves of generations of music lovers.
Mason left Traffic and, proving his mettle, established himself as a successful songwriter, guitarist and solo artist. As a solo act, Mason continued his rock legacy and struck international gold with his debut album "Alone Together." "Alone Together" is known today as a seminal rock album among classic rock lovers all over the world and is considered one of the highest-selling albums of all time due to such classic hits as "Only You Know And I Know," "World In Changes" and "Shouldn't Have Took More Than You Gave."
In addition to becoming a successful solo artist, Mason has become a permanent staple in record collections and the hearts of music lovers around the world because of his unique guitar work on many landmark albums including Rolling Stones' "Beggar's Banquet," George Harrison's "All Things Must Pass," Paul McCartney's "Listen To What The Man Said" and Jimi Hendrix's "Electric Ladyland," which features Mason playing the acoustic guitar before Hendrix's soaring entrance on Bob Dylan's cover of "All Along The Watchtower."
Now, Mason brings all of this and more to Dave Mason's Traffic Jam at the Norwalk Concert Hall on Jan. 8. The night will be a musical experience through history as Mason takes audiences through the decades of the earlier days of his career with Traffic and then finish with his classic works that launched his successful storied solo career.
Classic rock fans get ready as the Fairfield Theatre Company brings a night of unbelievable hits from the Rock and Roll Hall of Famer and co-founder of the legendary band Traffic, Dave Mason, as he makes his way to the Norwalk Concert Hall for a night that will start the new year off with a bang.
Date: Thursday, Jan. 8
Doors: 7 p.m.
Show: 8 p.m.
Venue: The Norwalk Concert Hall 125 East Avenue Norwalk, CT 06851
Tickets: $35 - $65 advance Member Discount: $5 - $10
Buy online: http://www.fairfieldtheatre.org
About the company:
Fairfield Theatre Company is a highly-acclaimed non-profit performing arts organization located in the heart of downtown Fairfield, Connecticut. FTC presents nearly 250 performances and concerts each year featuring outstanding national talent on FTC's StageOne in Fairfield, The Klein Auditorium in Bridgeport, and the Norwalk Concert Hall in Norwalk. FTC's intimate 200-seat StageOne concert venue is widely recognized as being one of the best places to see a live performance in the region. FTC is dedicated to providing the highest-quality arts, live entertainment and educational experiences to the communities it serves.