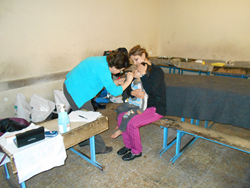 In all of my years of being involved in humanitarian outreach, this was one of the most tragic situations I have ever experienced.
Wilmington, NC (PRWEB) January 07, 2015
For the past three years, Live Oak Bank has donated to the worldwide humanitarian efforts completed by La Cima World Missions. The founder, Dave Sperow, and the other two members of his team returned to the United States on January 1st after a 13-day mission trip to Erbil, Kurdistan, Iraq.
Side-by-side with physicians and other healthcare providers from the Kurdish Children's Hospital in Erbil, they worked tirelessly in refugee/Internally Displaced People (IDP) camps. The goals of this mission were multi-faceted. Beyond providing dental care, the team also raised money to purchase clothes, food, medicine, blankets, boots, fuel and fire extinguishers.
The IDPs are mostly Christian, Yazidi and other religious minorities who have been forced from their homes by intense persecution from ISIS. Most of these people have had to run with only the clothes on their backs, and many of them have had family members murdered or enslaved by ISIS. They have been surviving by living in any available shelter. Parking garages and abandoned buildings have been converted into makeshift indoor tent-cities. Others are living in actual tents that have been put up in various camps around Erbil.
As winter closes in, it has begun to rain and it is getting cold. Many people are at great risk due to the deteriorating weather conditions. When they were forced to flee, it was a hundred degrees and they had no winter clothing. Now they are woefully unprepared to deal with the elements. Rubber boots were purchased to replace sandals and warm weather footwear that are useless in the mud that now makes up the surroundings in the tent cities.
One of the problems with the cold weather and tent cities is that they are forced to use kerosene heaters to try to stay warm. Over the months, these folks have accumulated a wide variety of items that they cram into their tents. This turns into a very densely packed tent in which most of the goods are flammable. It is not uncommon for kerosene heaters to be tipped over and set a tent on fire. These blazes spread quickly and in tent cities, they kill fast. By providing fire extinguishers, they can be strategically and safely placed in the camps.
"Live Oak Bank is proud to support another worthwhile cause through La Cima World Missions," commented JP Blevins, General Manager of Live Oak Bank's healthcare division. "It says a lot about Dr. Sperow and his team that they are willing to spend their holidays in remote, impoverished parts of the world using their skills to provide dental and medical services to those in need."
"This mission never would've been possible without Live Oak Bank making the initial donation, kicking off our fundraising efforts for our trip to Iraq," expressed Dave Sperow. "We raised and spent nearly $70,000 on aid for the IDP's. In all of my years of being involved in humanitarian outreach, this was one of the most tragic situations I have ever experienced. I am so grateful that we were able to bring a bit of comfort and a couple of week's worth of food to these people."
About Live Oak Bank
Live Oak Bank was founded in 2008 to provide small business loans to professionals across the country looking to start or expand their business. Aside from acquisitions and refinancing, Live Oak's lenders specialize in real estate loans and ground up construction projects. The bank originally began lending to veterinarians, and has since expanded not only into other healthcare-related industries, but into specialty areas as well. Having such a keen industry focus and trade specialists on board, enables the bank to offer an exceptional level of service to the client. To learn more about Live Oak Bank, please visit http://www.liveoakbank.com.
Contact:
Laura Petty, Marketing Programs Manager
910.796.1676 office
laura(dot)petty(at)liveoakbank(dot)com
Live Oak Banking Company. Member FDIC. 2015 Live Oak Banking Company. All rights reserved.