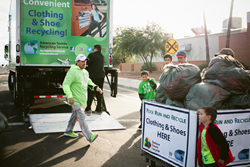 "Unwanted items can now find a new home through our partnership with ATRS," said Tracy Sundlun, Senior Vice President at Competitor Group
Phoenix, AZ (PRWEB) January 07, 2015
As approximately 23,000 runners and their supports gather in Phoenix January 16 – 18 for the annual P.F. Chang's Rock 'n' Roll Arizona Marathon & 1/2 Marathon, they will be greeted by green fairies at the corrals and start line to help pick up discarded warm up gear dropped along the course. ATRS volunteers wearing signature green tutus and green gear will collect all the unwanted textiles from the marathon and divert them from local landfills to keep the marathon clean and green.
Attendees are challenged to bring unwanted running gear, shoes and other clothing to the Health & Fitness Expo or on race day for recycling. Look for conveniently located recyclers at the ATRS Recycling Booth (119), and at the Start Line on race day.
"Whether participants want to upgrade to the latest and greatest gear in the New Year or simply need to replace clothing or shoes that have too many miles on them, unwanted items can now find a new home through our partnership with ATRS," said Tracy Sundlun, Senior Vice President at Competitor Group, owners and operators of the Rock 'n' Roll Marathon Series. "Many runners also tend to leave behind layers of clothing at the start line or along the course when the weather warms up throughout their race journey, and ATRS provides a great solution for where discarded gear should go."
Every pound of textile materials donated during P.F. Chang's Rock 'n' Roll Arizona Marathon will directly benefit The Weldon House, an area charity that provides housing to women in recovery and their children located in Phoenix, AZ. Residents and employees from the facility will join with volunteers at the race to help collect discarded items.
ATRS Recycling has collected over 33,000 lbs. of clothing, warm up gear and shoes from Competitor Series marathons nationwide in 2014. The campaign to ROCK RUN RECYCLE helps to educate runners and their supporters about the need to reduce, reuse, recycle at running events where we live, work and play.
Now in its third year, the ROCK RUN RECYCLE campaign is sponsored by the Rock 'n' Roll Marathon Series and ATRS to promote fun, earth-friendly recycling practices at each race. Marathons will take place around the country in the new year including the upcoming Rock 'n' Roll Dallas Half Marathon and Health & Fitness Expo on March 20-22, 2015.
About the Rock 'n' Roll Marathon Series
Organized by Competitor Group, the Rock 'n' Roll Marathon Series annually welcomes more than 600,000 professional and amateur runners taking part in 29 events around the world. The series, which started in 1998 with the simple idea of making running fun, has transformed the U.S. running landscape by infusing the course with live bands, cheer teams and entertaining water stations, creating a block-party atmosphere for participants and spectators alike.
Race weekend kicks off with a free Health & Fitness Expo showcasing the latest in running gear, sports apparel, health and nutritional information and much more. Events culminate with an entertaining finish line festival featuring some of the biggest names in music, with past headliners including Pitbull, FloRida, Cheap Trick, Bret Michaels and Macklemore. Rock 'n' Roll Tour Pass offers runners access to run multiple races for one-low price and earn Heavy Medal bling by completing more than one race in a calendar year. For more information, please visit RunRocknRoll.com or follow @RunRocknRoll on Twitter.
About American Textile Recycling Service (ATRS)
The nation's fastest growing textile recycler is an official recycling partner of Rock 'n' Roll Marathon Series. Its socially responsible business model provides free textile recycling solutions for the public, job stimulation worldwide and much-needed funding for worthy local charities. Easy, convenient ATRS Recyclers are available throughout Phoenix, Tucson and Tempe, Arizona, Texas, Colorado, Florida, Michigan, Tennessee, Atlanta, Oklahoma, and Southern California. ATRS is committed to keeping textile waste from local landfills and promoting a greener tomorrow. For press inquires contact pr (at) atrsonline (dot)com.