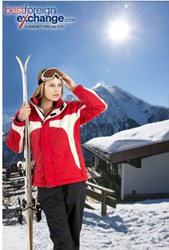 With prices ranging from £ 400 to £ 1,600, skiing is now within every body's range
London, UK (PRWEB UK) 8 January 2015
The 2014/15 skiing season experienced a slow start due to lack of snow in the Alps and other popular destinations as some resorts postponed their opening by weeks. However, BBC on 28th December reported that the French Alps are receiving more than sufficient snow fall to kick start the season.
"Skiing season is the most welcoming news for Londoners looking for adventure this winter. With prices ranging from £ 400 to £ 1,600, skiing is now within everybody's price range," stated Trevor Samuel, Senior Manager at BestForeignExchange.com.
Many travellers have booked their skiing trips months in advance, but travel money is the last thing to be arranged before departure. As such, BestForeignExchange.com offers the most competitive exchange rates for Euros, Swiss Francs, Chez Crones and other European currencies.
According to popular comparison site, Money Saving Experts, BestForeignExchange.com offered the most competitive exchange rates for Euro on 29th December.
"We do not charge commission on travel money sales and also have a next day delivery service via Royal Mail" continued Samuel.
About BestForeignExchange.com
Owned and operated by Thomas Exchange Global, BestForeignExchange.com offers the most competitive exchange rates in London and customers that reserve currencies online will be assured the same exchange rate until close of business on the particular day despite any adverse fluctuations. They stock the widest range of foreign currencies in London with over 120 types of foreign bank notes. All foreign currency buy/sell transactions are free of any commission or charges.
Thomas Exchange Global also offers International Money Transfer Service where funds can be remitted to overseas bank accounts within one to two days. With commission free service for transfers over £10,000 backed by competitive exchange rates, customers are assured of a better deal and a substantial saving compared to banks and money brokers. Thomas Exchange Global branches are located at Strand, Victoria Street, Liverpool Street, Hammersmith, Cannon Street and Wormwood Street.