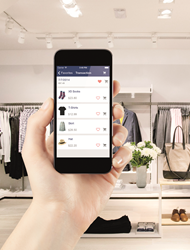 Omni retail and Multi-Channel retail will become a natural part of retail operations.
(PRWEB) January 07, 2015
LS Retail, a leading global developer of software solutions and services serving the retail and hospitality industries, will demonstrate their updated LS Nav retail IT solution at the National Retail Foundation's (NRF) "Big Show'' at New York's Javits Convention Center, January 11 to 14.
LS Nav is based on the Microsoft Dynamics platform. This 2015 update will highlight Omni cloud-based solutions, with multiple innovative mobile features. The LS Omni suite adds a new dimension to the relationship between the customer and the retailer by letting the customer shop at any time and at any place. Orders can be made online with either home delivery or in-store pick up with LS Retail's new "Click & Collect" feature.
The LS Omni suite of mobile POS, mobile apps and e-commerce solutions allows retailers to accept payments though a mobile POS in the store, have an integrated online store (e-commerce), let customers access a loyalty app on their mobile phones and manage their inventory with mobile devices.
At the NRF, LS Retail will be showcasing its:

Mobile POS for Retail
Mobile POS for Hospitality
Mobile Loyalty for Retail
Mobile Loyalty for Hospitality
eCommerce
Among the main advantages offered by LS Retail are the all-in-one software applications, integrating features and operations that are generally covered by different IT systems. By streamlining different functions performed by retailers, LS Retail software solutions offer full control over what's happening in the store and throughout the supply chain, from the terminals, store and inventory management, all through the use of a single application. This also means that retailers can optimize inventory, manage staff, cut costs, improve operations and provide a superior shopping experience without sacrificing any of the profitability. Multiple sales channels, including mobile and e-commerce, are all controlled within the integrated system. With a single application, the speed of service and customer satisfaction can increase while reducing costs and risk of data inaccuracies.
These features are important because, in the view of LS Retail CEO Magnus Norddahl:

Omni retail and Multi-Channel retail will become a natural part of traditional retail operations - customers will expect to be able to shop using a mobile device, eCommerce as well as in the store;
The store will be the focus of the retail experience with mobile devices playing a central role;
eCommerce sales will continue to grow rapidly;
Analytics will play an ever-increasing role in identifying trends and customer behavior;
More and more retailers will be willing to trust their computing infrastructure to cloud based providers;
Increased competition will result in more focus on ROI and cost of ownership of IT systems;
Retailers will increasingly move away from home-grown and highly customized solutions to standardized applications with focus on industry specific functionality.
With more than two decades of experience, LS Retail has been developing software solutions to make the shopping and dining experience a pleasure worldwide. LS Retail solutions help businesses around the world increase revenue, build loyalty, reach new customers and lower their costs of operations. LS Retail solutions have been installed by over 3,000 companies with 50,000 stores operating 115,000 point of sale (POS) terminals worldwide.
LS Retail experts and senior executives will be available Jan. 11-13 at booth 2555 at Javits. Retailers and restaurant operators can also schedule exclusive one-on-one appointments by contacting LS Retail at info(at)LSRetail(dot)com.
Visit http://www.LSRetail.com to learn more about LS Retail's participation in Retail's Big Show 2015 and also for details about its retail software solutions.