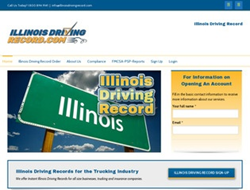 The new Illinois Driving Record website will be one of many state specific driving record websites launched in 2015.
(PRWEB) January 06, 2015
IllinoisDrivingRecord.com was established on January 06, 2015 and serves all size businesses, in the trucking and insurance industries. IllinoisDriving Record.com created its website to allow businesses, especially trucking companies to access Illinois driving records and information pertaining to the Illinois trucking industry.
The new website utilizes a horizontal navigation menu that highlights informative pages and imperative information. The user-friendly interface of the website features an engaging carousel on the homepage that rotates through an assortment of images.
According to Todd Mayers, Marketing Manager, "The new Illinois Driving Record website will be one of many state specific driving record websites launched in 2015".
Companies can now order individual Illinois driving records direct from the website. Companies that have the need to run more than 5 Illinois Motor Vehicle Records (MVRs) a month can sign up for an online account for instant driving records at discounted rates. Once the account is set up the user can order driving records, not only for the state of Illinois, but for all 50 states and Canada. Trucking companies with Commercial Driver Licensed (CDL) drivers can also access instant FCMSA – Pre-Employment Screening Program (PSP) reports.
Companies will also benefit from the new websites Illinois State trucking industry news, United States Department of Transportation ( USDOT) updates and general industry news that may affect companies that have CDL and Non-CDL drivers in their employment fleet.
About IllinoisDrivingRecord.com
IllinoisDrivingRecord.com is a Driving Records provider that operates under its parent company TR Information Services. IllinoisDrivingRecord.com offers instant access to Driving Records for all 50 states, as well as Driving Record Monitoring. IllinoisDrivingRecord.com provides driving record information to all size corporations. Driving Record information helps corporations to make informed decisions regarding current and perspective employees.
For more information, visit [http://www.illinoisdrivingrecord.com/.
About TR Information Services
TR Information Services was established in 1994 and is a premier full-service provider of MVR information and Driving Records. Comprehensive driving records include violations, convictions, accidents, issues and expiration dates. TR Information Services maintains a secure network of direct-to-DMV interface platform that delivers the most current driver record data on a web based server. TR Information Services has access to Driving Records from all 50 states, DC and Canada. TR Information Services also offers Driving Record and Fleet Monitoring, CDLIS, FMCSA's PSP Reports to all customers.