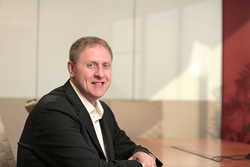 Joberate technology, and specifically the J-Score, is probably one of the most game changing HR innovations of the decade.
New York, NY (PRWEB) January 06, 2015
Joberate, a leader in tracking and measuring workforce job seeking behavior, recently conducted analysis of its U.S. job seeking behavior data, which shows that the median currently employed American leaves their current employer within 119.6 days of a measurable increase in their job seeking behavior, their J-Score. The median J-Score of a person who voluntarily resigns is 40, while the average (mean) is 40.9.
The average time it takes for a currently employed American to leave their current employer is 142.3 days from the time there is a measurable increase in their job seeking behavior, their J-Score, but with only one standard deviation from the mean (86.2 days) it can take as little as 56.1 days for an employee to leave their current employer vulnerable and empty-handed. Joberate is currently measuring job seeking behaviors of 32,076 people across 100 publicly listed companies as the dataset to support its analysis.
Joberate's technology tracks people's publicly available digital footprint, which includes their public Social Media data, to measure and quantify each individual's job seeking activities. Joberate quantifies each person's job seeking behavior using the proprietary Joberate Employment Topology into a J-Score, which ranges on a scale of 4-70, with 4 being the least active job seeking behavior and 70 being the most active.
Employers and Human Resources (HR) departments without advanced knowledge of their employees' job seeking behaviors can find their high performers, irreplaceable intellectual property, and critical skills workers literally walking out the door with virtually no advance warning.
In addition to losing high value employees, companies are also at risk of losing their competitive advantage and face staggering costs in replacing key employees. According to a Center for American Progress study, the cost to replace a worker, depending on their skill set, can range from 10%-30% of their salary, while the cost to replace executives and other niche roles can be as high as 213% of their salary. In total, voluntary attrition represents a $350 billion global problem that businesses must address strategically.
At the same time, the speed with which people decide to change their jobs represents a tremendous opportunity for Talent Acquisition and Recruiting departments that are charged with recruiting top talent, with time to hire, quality of hire, and cost per hire being their key performance metrics. Receiving a notification when a person's J-Score increases enables recruiters to immediately contact a prospect with a potential job offer, which gives recruiters a competitive advantage for top talent, and helps them improve all of their key performance metrics.
Joberate, winner of the 2014 iTalent HR Technology competition, is a disruptive SaaS technology platform that is also available via an API, which helps companies tackle myriad business challenges that stem from voluntary employee attrition and helps recruiters gain a competitive advantage for top talent.
At the core of Joberate technology is a proprietary machine learning predictive analytics engine, which leverages publicly available data to numerically quantify various job seeking attributes into a J-Score, which is how likely a person is to seek a new employment opportunity outside of their current employer. Extensive client utilization has revealed J-Score to be a reliable predictive analytic, making Joberate technology unique in its functionality and application.
"Joberate technology, and specifically the J-Score, is probably one of the most game changing HR innovations of the decade when it comes to helping organizations retain their top talent or helping recruiters know who they should headhunt, and most importantly – when!" said Michael Beygelman, Joberate CEO. He continued, "It is self-evident that in the immediate term the J-Score already helps companies hire and retain top talent, but in the long term the J-Score might also help economists and analysts better understand global employment trends, financial institutions better understand internal company dynamics to support their investment decisions, or help credit rating agencies like Equifax improve the accuracy of their credit scores."
For additional information about Joberate award-winning technology, please visit http://www.joberate.com.
About Joberate
Joberate's mission is to help society better understand job seeking behaviors of the global workforce, and to measure and quantify that behavior so that it's easier for companies to retain their high value employees, recruiters to find better talent, and for people to find work that fulfills their lifestyle. Joberate's technology is available as a standalone, web-based SaaS application, as well as an API that can be integrated into leading Talent Management, ATS, CRM, and HRMS applications.
Joberate won the 2014 iTalent technology competition, hosted by HRO Today Forum, from a prominent field of finalists including Glassdoor, Jibe, Smashfly, and 1-Page. In 2013 the company was named a finalist at the UK National Online Recruitment Awards competition in the category of Best Innovations in Online Recruitment along with prominent companies like LinkedIn, and Joberate was recently shortlisted by SAP for the "Big Data Startup of the Year" award.