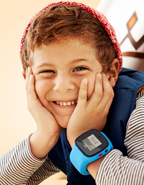 Child's Play is an expert at reaching moms and dads – our target market
New York, NY (PRWEB) January 07, 2015
Child's Play Communications, the award-winning public relations agency specializing in connecting brands with moms, has announced the addition of Filip Technologies as a client, for the launch of FiLIP 2, the next generation wearable phone, smart locator and watch for kids ages 4-11.
With FiLIP 2, parents can call, text and locate their child right from their mobile device, allowing children to safely and independently explore, play and grow while staying connected to mom and dad. Whether it's checking to see that your child has made it home from school or sending a text to let him know you're running a few minutes late, FiLIP 2 delivers the extra peace of mind that every parent and child craves.
The Child's Play team will handle media relations targeted to parents as well as blogger management.
Filip Technologies is the latest client to benefit from Child's Play's growing focus on family-friendly technology, including apps for parents and kids, digital tablets, toys with a tech component and now, wearables.
"We love FiLIP," said Child's Play president, Stephanie Azzarone. "We think it's a brilliant solution for parents who want to stay in touch with children too young to have their own phone."
"Child's Play Communications is an expert at reaching moms and dads – our target market," commented Sten Kirkbak, Filip Technologies Founder and CCO. "We are excited to benefit from the knowledge and relationships they have built within this segment as we grow the FiLIP brand."
Located in New York City, Child's Play Communications specializes in public relations, social media and word-of-mouth communications for products and services targeted to moms.
About Child's Play Communications
Child's Play Communications is the leading agency specializing in public relations, social media, content development and word-of-mouth communications for products and services targeted to parents. Clients have included brand leaders such as Disney, Warner Bros., Heinz, Hewlett Packard, Wildlife Conservation Society, Hasbro and Parents magazine. Based in New York City, the award-winning agency offers an exciting array of proprietary services to engage this influential market through traditional media, online and in-person, including Team Mom™ and Digital Dads, the company's network of bloggers. For additional information, please visit our Web site at ChildsPlayPR.com, our blog, like us on Facebook, or follow us on Twitter or Pinterest.
About Filip Technologies, Inc.
Filip Technologies, Inc. develops communication and location-based products and services designed to keep families in touch. Its products combine the two most important elements in family mobile offerings – communications and safety. The company's flagship product, FiLIP, is the world's first wearable phone and locator for children. Previewed to rave reviews at CES 2013, its patent-pending technology combines cellular voice with geo-location capability in a device small enough to be worn on a wrist. Founded in 2009 by Sten Kirkbak after he briefly lost track of his young son Filip in a shopping mall, Filip Technologies, Inc. is privately held with offices in New York, N.Y. and Raleigh, N.C. For more information, please visit myFilip.com.