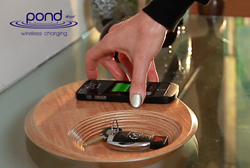 iPhone owners now have a no-compromise solution to enjoy Qi wireless charging
San Diego, California (PRWEB) January 06, 2015
The Apple MFi approved STREAM charging case is the first Qi wireless charging case for iPhone 5s and iPhone 5 to become available in the Verizon Wireless on-line store (go to verizonwireless.com search 'stream').
With the Stream Qi case, iPhone owners now have a no-compromise solution to enjoy Qi wireless charging. Going beyond moderate wireless charging rates of many Android and Windows Phone models, the Stream Qi case provides wireless charging at the same rate as plugging in Apple's USB wall charger. This break-through wireless charging performance comes without compromising design. The STREAM case feels as thin as a regular wrap-around protective case, and is ultralight even in comparison to ordinary cases maintaining the intended look and feel of the iPhone's form.
Stream's built-in Qi receiver allows an iPhone 5 & 5s to charge on any Qi certified charging pad. The technology works by placing your phone onto the charging pad, which then transmits the charging power a short distance to the phone case. The charging automatically starts when the phone is placed on the pad, with no need to plug in any cords.
"The Verizon Wireless online launch of the Stream case is a great example of how the quality and performance of our Pond Wireless Charging products are being recognized by world class partners, and we know Apple iPhone users will be thrilled with the performance and style that Stream provides," comments Soren Nielsen, Devant's CEO. "With the successful launches of our Pond and Pond Duo chargers via Kickstarter and our http://www.pondcharging.com website, and now the Verizon sales launch of Stream, we look forward to providing great service to our customers and even more great products in the future."
The case, now available through Verizon Wireless online store, is fully compatible with iPhone 5/5s from all carriers. A case for the iPhone 6 will be introduced at CES 2015.
About Devant Technologies, Inc.: Based in San Diego, California, Devant's Pond Wireless Charging line of consumer wireless charging products combine elegant design and superior performance.