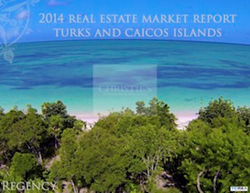 It is extremely comforting to see yet further growth in the market, and feel that 2015 will be a strong year given the heightened interest for new development throughout the Turks and Caicos Islands
(PRWEB) January 07, 2015
Year on year from 2009, a period when the market experienced ill effects associated with the global economic downturn, the real estate sector has grown considerably. The graph to the right shows impressive gains in 2010 and 2011 compared to 2009, with 2012 showing a meteoric 276% increase in dollar volume sales.
As we experience greater global stability we see that the past three years, 2012, 2013, 2014, have enjoyed a strong, steady, and consistent 6% (average) growth in the overall market.
Everything said to this point highlights a solid 'recovery' phase from a period that was undoubtedly a very difficult time for most, if not all markets around the world. However, this is only a part of the actual picture for the Turks and Caicos Islands.
The Turks and Caicos Islands maintain allure regardless of global issues. It still offers an amazing lifestyle, coupled with a wise investment for those looking to diversify their portfolios in a tax free, offshore jurisdiction with solid wealth management opportunity.
The Turks and Caicos Islands are a 'Beginning of Lifecycle destination' remaining virgin territory for new developments across the archipelago. As such, it would be fair to surmise that we can expect further new developments boosting the market. Coupled with the desires of the buyer demographic looking to find 'that next new destination' and increased airlift, we can sensibly expect a bright future.
Regency, the exclusive Christie's International Real Estate affiliate for the Turks and Caicos Islands, is renowned for providing unparalleled knowledge and trusted advice to our clients. Our goal is to provide exceptional service and a complete understanding of offshore investments. We combine more than 150 years of experience in the Turks and Caicos with a global network that gives you access to top brokers around the world and opportunities to collaborate with the esteemed Christie's auction house. We Honor people's desire for privacy and discretion, and work directly with developers, architects, attorneys, and banks to ensure our clients have a great team behind them. When it comes to our clients, we don't believe in "island time." 
Christie's International Real Estate is an invitation-only Affiliate network composed of the world's most proven and qualified real estate specialists in the luxury residential sector. The company has offices in London, New York, Hong Kong, Beverly Hills, Chicago, and Palm Beach, and more than 135 global Affiliates with over 25,000 real estate professionals in 45 countries.