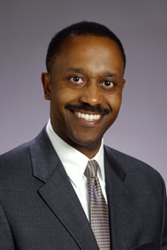 (PRWEB) January 06, 2015
CareSource, a nonprofit, Ohio-based health plan, is pleased to welcome Gary L. LeRoy, M.D. to the CareSource Ohio Board of Trustees.
Dr. LeRoy is associate dean of student affairs and admissions, and associate professor of family medicine at Wright State University's Boonshoft School of Medicine. In addition, Dr. LeRoy is a practicing part-time physician at Community Health Centers of Greater Dayton, a federally qualified health center where he has practiced for over 25 years.
A past-president of the Ohio Academy of Family Physicians, Dr. LeRoy has also held a leadership position in Phi Rho Sigma Medical Society and is a member of the Alpha Omega Alpha Medical Honor Society. He is a member of the Golden Key International Honor Society and has been recognized as one of America's 50 Most Positive Physicians, Miami Valley Family Physician of the Year, is listed in the National Registry of Who's Who in America, and recognized as one of Dayton's Top Ten African-American Males.
Dr. LeRoy joins the CareSource Ohio board at an exciting time. The company has experienced rapid and unprecedented growth due in large part to the Affordable Care Act, Medicaid expansion and the demonstration project MyCare Ohio. Through successful enrollment and member growth CareSource is serving more than 1.3 million members in Ohio and Kentucky.
"Dr. Gary LeRoy, a native Daytonian is a proven leader who shares the CareSource mission of improving the health and well-being of consumers. He will be a valuable addition to our Board and we look forward to his input," Pam Morris, President and CEO, CareSource said.
Dr. LeRoy is active in the community serving on the Board of Trustees for Hospice of Dayton, Reach Out of Montgomery County, Dayton Gem Special Needs Center, The Dayton Foundation Board Chair and the Wright State University Alumni Association.
About CareSource
CareSource, a nonprofit health plan is celebrating 25 years as one of the nation's largest Managed Medicaid Plans. Headquartered in Dayton, CareSource serves more than 1.3 million consumers in Ohio and Kentucky. CareSource is living its mission to make a difference in our members' lives by improving their health and well-being. CareSource understands the challenges consumers face navigating the health system and works to put health care in reach for those it serves.