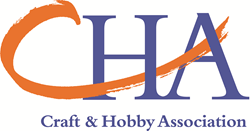 Elmwood Park, NJ (PRWEB) January 05, 2015
The Craft & Hobby Association (CHA) is pleased to announce the CHA 2015 Hall of Fame Inductees. These industry veterans and pioneers have made extraordinary contributions leading to the growth and success of their organizations and the creative arts industry.
The 2015 CHA Hall of Fame inductees include John and Edna Clapper, Clapper Communications; Jane Anne Davis, Blumenthal Lansing; Andrea Grossman, Mrs. Grossman's Paper Company; Howard Hoffman, MJ Designs, Deco Art, Cardinal Brands & Toner; Vince Naccorato, Wilton; William "Bill" Neu, Deco Art; John E. "Jack" Parker, A.C. Moore; and Tom Yalely, Yalely Enterprises.
"We are grateful for all of those who have come before us and whose passion and dedication had a hand in shaping our great industry. The Hall of Fame lets us all take time to honor, remember and thank these individuals for their tireless contributions to our member-driven association," said David Murray, CHA Hall of Fame Committee Chair.
The 2015 CHA Hall of Fame Inductees:
John and Edna Clapper, of Clapper Communications, are visionaries who looked at an empty butter carton and saw a toy truck that turned into a multi-million-dollar publishing company. The "Butter Carton Truck" was one of the crafts featured in a 1951 issue of Pack-O-Fun, a mimeographed pamphlet bound together on a vintage Singer sewing machine. The magazine provided an array of ideas and activities for kids and families and was marketed to Boy Scout den mothers who struggled to make ends meet. Edna and John Clapper turned Clapper Communications Co. in Des Plaines, IL. into a family-owned publishing house that produced five bi-monthly magazines with a circulation totaling 600,000. The company's mastheads were Pack-O-Fun, Crafts 'n Things, Painting, The Cross Stitcher, and Bridal Crafts. John and Edna retired from the magazine in 1974 and turned over the operations of the magazine to their son Lyle and his wife, Marie. In the spring of 2006, the Clappers sold their magazine business to Amos Press, Inc., where they are still in publication today.
Jane Anne Davis has had a long and diversified career in the arts & crafts industry.
Prior to her retirement in 2013, she wan an accomplished executive and was Vice President of Sales for Plaid Enterprises for more than 20 years and was Vice President of Craft Sales for Duncan Enterprises; Owner/President of Jane Anne & Co.; and Sr. VP Sales and Marketing Blumenthal Lansing. Ms. Davis has also worked as a retail buyer, importer and sales representative. Since 1996, Ms. Davis has been involved in the HIA and CHA as a committee member, task force leader, member of the Governance Committee; Chairperson for the Member Linkage Committee; and Board of Director member, including Secretary for the Board. As an involved member of the association, Ms. Davis had the unique opportunity to not only represent her employers' interest, but gain insight into and help monitor the association's programs and services in keeping with its mission to "facilitate the sales growth of the craft and hobby industry."
Andrea Grossman, founder of Mrs. Grossman's Paper Company, designed her first decorative sticker more than 35 years ago from her kitchen table and she had no idea her name would become legendary for launching an industry category based on such a simple product. Synonymous with the highest quality, cutting-edge design, vibrant, clean colors, and extraordinary, almost legendary variety, Mrs. Grossman's stickers are recognized all over the world. Today, Mrs. Grossman's operates out of a contemporary "green" 50,000 square ft. building with its own printing plant and offers the only sticker factory tour in the world. The company has donated more than 20 million stickers to children in hospitals all over the world.
Howard Hoffman has had a long and distinguished career in the industry as an association leader, salesman, and proponent of creativity. Mr. Hoffman started in the craft industry with CJ Bates and Co., a manufacturer of knitting needles and crochet hooks. As the National Sales Manager for Western Trimming, he quickly joined the company and worked with Mr. Dupey for 35 years, identifying many new trends and opportunities in the industry. Also during this time, Mr. Hoffman was President of HIA for two years and served on the HIA Board for 8 years. In 1999, he earned the prestigious HIA Meritorious Award of Honor from HIA. Before his retirement from the industry, he served as an advisor to many companies, helping to create fun experiences for customers coming into craft stores. Today, Mr. Hoffman is a real estate agent in the DFW area.
Vincent Naccarato started his career with Wilton Enterprises in 1969, then known as Wilton Industries, and purchased Wilton when it was a public company in the mid-1980s. Under his leadership, the business realized exceptional growth through the expansion of product categories, and an undivided focus on the consumer. With the addition of such brands as Copco, Rowoco and Weston Galleries, along with an intense organic expansion of product categories, the niche cake decorating business became a major player within the housewares industry. Every year since the 1970's hundreds of thousands of consumers learned the art & craft of cake decorating and other food crafting through the most successful organized educational program in the craft industry. Millions of consumers have visited craft stores 6-8 times for the Wilton cake decorating classes and were exposed to all of the other wonderful products in the industry.
William "Bill" Neu, is one of the founding members of the industry's first craft association, Mid America Craft and Hobby Association (MACHA). At the time, when most people heard the word craft they thought of Kraft cheese. Mr. Neu, along with some other industry reps and Walt Offinger, saw that the industry was poised to grow and needed a structured and organized voice. Several years later ACCI was formed and held small regional trade shows and then a major show in downtown Chicago. Mr. Neu's exposure to the craft industry was completely by accident. As a flower shop owner, he developed a line of colored sand art that could be used in terrariums. While exhibiting this product at a floral trade show, several craft reps approached him about selling the product in the craft industry and Mr. Neu has never looked back. Over the span of his career he has consulted for some well-known craft companies and worked for some of the biggest names in the industry including DECO ART and The Testor Corporation. Not one to "retire" Mr. Neu currently works part-time as a tour guide in Las Vegas.
John E. "Jack" Parker retired from A.C. Moore Arts & Crafts, Inc. on December 31, 2006 after a career that spanned 46 years in the retail merchandise industry. In 1984 he co-founded A.C. Moore and was their director and CEO since its inception. Under his leadership, A.C. Moore became an arts and crafts superstore, operating 109 stores with a solid financial performance and a clear focus on operational excellence, customer service and shareholder value. Prior to founding A.C. Moore in 1984, Mr. Parker worked for the F.W. Woolworth Company, a general merchandise retailer, in various management positions, including President and CEO of the United States General Merchandise Group, where he was responsible for more than 1,000 stores, including the entire domestic chain of Woolworth retail stores.
Tom Yaley, Sr., founder and president of Yaley Enterprises, has specialized in the formulation of custom blended waxes for industrial and commercial use for more than 35 years. Yaley Enterprises has roots back to 1937, when Mr. Yaley's great grandfather founded Paragon Wax Refining Company. Paragon manufactured 50+ kinds of wax for everything from conditioning skis to creating automobile tires. In the late 1960s, "flower children" began visiting Paragon's San Francisco refinery asking for wax and other supplies for making candles. This gave Mr. Yaley an idea, and in 1969, he launched Yaley Enterprises, which produced candle making wax, molds, wicking, and a small assortment of coloring and scent blocks. The products were an immediate hit with the local community, and nationwide distribution began the following year. In 1999 Yaley expanded and introduced their Soapsations® line of soap making supplies to the craft industry. Today, Yaley Enterprises, a four generation family–run business, sells to chain stores, independents, distributors, and professional crafters. The product line expands constantly to reflect current trends and to respond to requests from consumers and customers.
The inductees are chosen annually by the CHA Hall of Fame Committee, which is comprised of CHA Board Members and member volunteers. The 2015 inductees will be honored during an awards ceremony at the 2nd Annual CHA Foundation Gala on Sunday, January 11, 2015 at the CHA MEGA Show in Anaheim, California.
For tickets to the CHA Foundation Gala and more information on the CHA MEGA Show visit: http://www.craftandhobby.org.
ABOUT THE CRAFT & HOBBY ASSOCIATION
The Craft & Hobby Association (CHA) is an international nonprofit trade association consisting of thousands of member companies engaged in the design, manufacture, distribution and retail sales of products in the worldwide craft and hobby industry. For more information about CHA, membership or its award-winning CHA Conference and Trade Show, visit http://www.craftandhobby.org.
EDITOR'S NOTE: To register as press for the 2015 MEGA Show go to the CHA Press Room Portal at http://www.expologic.com/chapress.