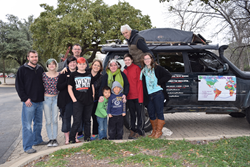 ...the family can access their postal mail online instantly and privately from anywhere they have internet access.
Austin, Texas (PRWEB) January 06, 2015
As northwest Washington state residents Brendan and Gillian Lally, along with their three children, make an epic quest across four continents, one thing they won't have to worry about is picking up their mail.
That's because Scan Mailboxes, a leader in online postal mailbox scanning and forwarding services, is a sponsor of "The Long Way Home," featuring the Lally family as they tour the world – from Washington state through South America, the Savannah grasslands, the Sahara Desert, and beyond – from their trusty truck.
With Scan Mailboxes' service, the family can access their postal mail online instantly and privately from anywhere they have Internet access.

Their mail is received at Scan Mailboxes in Austin, Texas, where it is scanned in color and uploaded using the newest and most secure technologies.
From there, the Lally family can see same-day images of their mail via their secure online mailbox account.
In addition, checks can be deposited to ensure access to their funds, and any other mailed items can be stored, shredded or recycled upon request.
The Lally family will keep a blog of their journey. "The Long Way Home" is scheduled to air on PBS stations and in Ireland, original home of Brendan and Gillian Lally.
About Scan Mailboxes:
Scan Mailboxes is an online postal mail scanning and forwarding service, also known as virtual mailbox service. Scan Mailboxes customers receive their own street mailing address mailbox, which accepts mail and packages from US Post Office, FedEx, UPS and any other courier services. Scan Mailboxes is also a Texas Registered Agent service provider.
This valuable service is available to anyone worldwide who need a remote postal mailbox solution. Many customers who have used Scan Mailboxes realized how much time and money they have saved to date.
Visit https://www.scanmailboxes.com to learn more.
Twitter: https://twitter.com/ourlongwayhome
Facebook: https://www.facebook.com/thelallyslongwayhome
Website: http://www.thelongwayhome.us