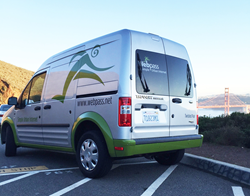 Webpass offers residential Internet connections at 100, 200 and 500 Mpbs. With a Webpass connection our customers connect faster and at fraction of the competitors price.
(PRWEB) January 07, 2015
On January 2, 2015, Webpass, Inc., a San Francisco based Internet service provider, launched 500 Mbps of service to 25% of their existing customer base in San Francisco, San Diego and Chicago. Webpass offers building specific, simple Internet service to urban residential and commercial buildings.
"As technology in today's world evolves, Webpass continues to release new speeds that benefit customers. It's expected by 2017 that every person using the Internet will have at least 5 devices that need connectivity which creates demand for stronger, faster Internet," stated Charles Barr, President of Webpass. "Consumers want to have the ability to shop online, stream music, television and make video calls all from their computer and Webpass offers an alternative to traditional Internet services which allow customers to do just that with faster speeds and no gimmicks."
When Webpass first opened their doors in 2003 they offered 10 Mbps to residents in San Francisco, which was faster than the average connectivity in the US household (currently the average download speed is 32 Mbps). Not only is it fast, but also the installation is seamless, customers can schedule their installation for same day service and the installation takes approximately 20 minutes.
"We spend a tremendous amount of time focusing on customer service and are always thinking about ways we can continue to elevate the experience. Our installers truly care about what happens after they leave and it shows. That level of service just doesn't exist with other providers," says Barr.
So, how does it work? With no modem required, customers plug their Ethernet cord into a data jack for connectivity. It's really that simple. A wireless connection is available by purchasing a router, but best speeds are with a wired connection. Webpass offers 100, 200 and 500 Mbps to residential buildings for $55/month and if the building owner or HOA opt for Built-In service the cost is reduced to $25-$30/month. As of January 2, 25% of the customer base in the San Francisco, San Diego and Chicago markets will have access to 500 Mbps, which is faster than what Comcast & AT&T offer. Webpass requires no contract so customers can cancel service at any time with no questions asked. As new buildings continue to come online 500 Mbps will be the standard speed offered to Webpass customers.
About Webpass
Founded in 2003, Webpass Inc., is a privately owned San Francisco based Internet Service Provider delivering simple urban internet service to buildings built after 1995 with at least 10 units. Today, Webpass has over 10,000 residential and business customers in the major urban markets of the San Francisco Bay Area, San Diego, Miami and Chicago. Webpass owns and operates an Ethernet network, eliminating dependence on phone and cable companies. Webpass offers business Internet connections from 10 - 1000 Mbps and residential Internet connections at 100, 200 and 500 Mbps.