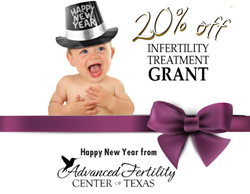 Houston, Texas (PRWEB) January 07, 2015
To ring in the New Year Advanced Fertility Center of Texas announced their release of a program intended to help couples seeking the joys of parenthood. When certain conditions prevent natural conception their skilled physicians and staff are ready to perform a thorough investigation of the etiology and offer a variety of individualized treatments. Dr. Michael Allon, double board certified in Reproductive Endocrinology and Infertility has helped couples in the Houston area since 1996. The entire team at AFCT, strives to eliminate the stress couples face when they are attempting to build a family.
How do you know if you are a candidate for the process of In Vitro Fertilization (IVF)?
If you have tried to conceive and have one of the following factors, than you may consider the process of IVF:

Advanced stage endometriosis
Male infertility
Unexplained infertility with failed trials of gonadotropins injections treatments.
History of blocked tubes or ectopic pregnancies
Polycystic Ovarian Syndrome with failed ovulation induction.
About the center:
Advanced Fertility Center of Texas has several fertility treatment centers located throughout the Houston metropolitan area. They offer the most comprehensive, cutting-edge fertility services available. They assist couples and individuals in experiencing the joy of parenthood, by providing the entire range of fertility services on-site, including artificial insemination, injectable gonadotropins and in vitro fertilization treatment. They have a successful minimal stimulation IVF for poor ovarian reserve patients, egg freezing, egg donor program and fertility preservation. For more information, please call (713)467-4488 or visit their website at http://www.infertilityanswers.com.