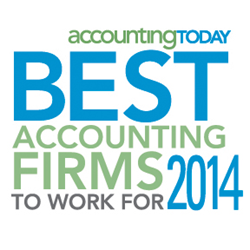 This award is a reflection of our strategy to structure a good working environment so that we can provide outstanding service to our clients"
Dallas, Texas (PRWEB) January 13, 2015
Since being established in 2010, BKM Sowan Horan has made the list every year they have been eligible. "This award is a reflection of our strategy to structure a good working environment so that we can provide outstanding service to our clients" said Senior Partner, Tim Horan. The consistency in which the firm has received this award every year is testament to the unique approach BKM Sowan Horan uses to engage their clients and employees.
Every year, Accounting Today selects the top firms with a two-part questionnaire. The first section assesses each company's workplace policies, practices, philosophy, systems and demographics; the information gathered from this part of the survey accounts for 25 percent of the total score. The second part is an employee survey used to gauge the overall employee experience; this portion accounts for the remaining 75 percent of the overall score.
BKM Sowan Horan uses a collaborative approach and gives their clients access to their entire team of financial professionals. Managing Partner Rick Sowan stated, "We have committed to creating a collaborative culture for the employees over the last five years. Our most valuable asset is our people and we are honored by this recognition. Our collaborative method has proven effective for both client and employee retention. We are pleased that as the firm has expanded and attracted new clients and employees, we continue to receive such recognition year after year."
About BKW Sowan Horan
BKM Sowan Horan is a public accounting firm based out of Addison, TX. Founded in 2010, BKM Sowan Horan employs a collaborative approach to devising accounting strategies for private companies. With multiple professionals involved with each client, the firm is able to provide comprehensive solutions in a rapidly changing business environment.