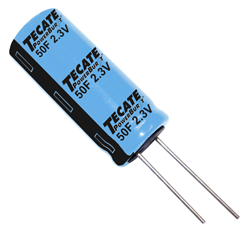 San Diego, CA (PRWEB) January 07, 2015
Leading global supplier of ultracapacitors Tecate Group today announced that the newest member of their PowerBurst® family of cylindrical, radial-leaded ultracapacitor cells is now UL 810A-recognized. This UL safety recognition provides designers with an added level of confidence when selecting these components for use in any of a wide range of applications, including uninterruptible power supplies, emergency lighting, and smart metering. The TPLE Series joins a growing family of Tecate ultracapacitor devices that also bear the UL mark. These electrochemical double-layer capacitors (EDLCs) also boast 100% RoHS compliance and have extended operating temperatures and extremely low equivalent series resistance (ESR). The lightweight, small form factor parts are maintenance-free, possess an extended 85oC upper operating temperature limit, and offer a high charge/discharge cycle life along with high useable capacity.
Able to be used for pulse and hold-up power in handheld and portable devices that employ microprocessors, the TPLE Series of high-temperature ultracapacitors may now be even more confidently specified for energy storage in the broadest range of space-constrained applications. The newly recognized TPLE devices continue to be an excellent choice for use in conjunction with batteries or other power sources when those batteries or power sources alone do not meet performance objectives.
The TPLE Series, rated at 2.3V, is provided in seven specific capacitance values ranging from 5F to 100F, and in sizes of 10mm (D) x 20mm (L) to 18mm (D) x 45mm (L). TPLE Series ultracapacitors feature a capacitance tolerance of -0% to +40%. Delivery is from stock to 8 weeks ARO. For more information about Tecate's PowerBurst TPLE Series ultracapacitors, and to purchase them, visit http://www.tecategroup.com/ultracapacitors/powerburst.php.