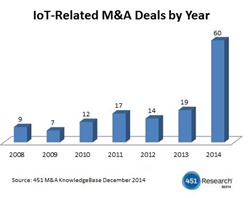 "Acquirers don't want to cede anything to a growing list of competitors as demand for IoT services in both consumer and industrial markets builds," said Brian Partridge, Vice President of 451 Research's mobility team.
(PRWEB) January 06, 2015
Acquirers stepped up their activity in the Internet of Things (IoT) marketplace in 2014, spending approximately $14.3bn to acquire 60 companies in 2014. That spending is almost eight times the total spent by acquirers prior to 2014 and represents a fortyfold increase over 2013. The number of deals increased more than twofold as companies such as Google, Samsung, Cisco, Intel, PTC, Qualcomm and many others staked out their ground in an effort to position IoT as a key contributor to corporate strategy. 451 Research tracks IoT and wearable tech deal activity via its proprietary database, the 451 M&A KnowledgeBase, which has recorded more than 40,000 technology merger and acquisition transactions since 2002.
The sharp rise in deal-making activity in 2014 suggests that market forces surrounding IoT have become sufficiently compelling to demand action. "Acquirers don't want to cede anything to a growing list of competitors as demand for IoT services in both consumer and industrial markets builds," said Brian Partridge, Vice President of 451 Research's mobility team, "The expected growth in this segment will drive enterprise spending across a myriad of building-block categories from embedded computing systems to communication infrastructure, IP networking, cloud and datacenter technologies that will form the foundation of the next generation of connected machines and services. We expect to see even more activity in 2015 as the cost and risk hurdles to IoT adoption are overcome and the competition to serve these markets increases. Any firm with the strategic intention of being an IT infrastructure and services leader over the next 10 years does not have the option to ignore this market."
M&A activity in 2014 is almost evenly split between IoT-enabling horizontal infrastructure and vertical applications. In the infrastructure arena, acquirers notched 20 deals, primarily targeting a broad range of sensors, semiconductors, software platforms, security infrastructure and connectivity technologies needed for IoT to work effectively. Within the verticals, the transport and logistics segment led the field with 11 transactions, followed by the fitness and healthcare segment with 10 transactions. Acquirers also purchased five companies related to the home automation segment.
Key transactions identified by the 451 Research mobility team for the year include:
Home Automation and Control:

Google acquired Nest Labs for $3.2bn in January.
Nest Labs acquired Dropcam for $555m in June.
These deals were significant due to their size, revenue multiples, market valuation and the brands behind the transactions. Google and Samsung view the connected home as logical extensions from their respective positions of strength in smart devices and operating systems.
IoT-Enabling Platforms:

PTC acquired Axeda for $170m in August.
This deal provides a lens into the changing competitive dynamics for making products smart. PCT's IoT acquisition spree lines it up as a competitor to more traditional enterprise IT software players such as SAP, IBM and Oracle.
Wearable Technology:

Intel acquired BASIS Science for $100m in March.
Intel continued to build on its quest to become a dominant supplier in key parts of the value stack for IoT in both consumer and industrial segments. BASIS was somewhat of a surprise acquisition for the chipmaker because it was selling its wearable fitness trackers directly to consumers while competing with companies such as Jawbone and Fitbit.
About 451 M&A KnowledgeBase
The 451 M&A KnowledgeBase is the only mergers and acquisitions database focused on the broad information technology sector. 451 Research tracks more than 38,000 global transactions across more than 650 segments of the technology and telecommunications markets. In addition, by leveraging the insight of 451 Research analysts, the KnowledgeBase provides in-depth analysis and proprietary deal value estimates for key private-company transactions involving some of the market's most disruptive technologies.
To learn more or request information about 451M&A KnowledgeBase, click here.
About 451 Research
451 Research is a preeminent information technology research and advisory company. With a core focus
on technology innovation and market disruption, we provide essential insight for leaders of the digital
economy. More than 100 analysts and consultants deliver that insight via syndicated research, advisory
services and live events to more than 1,000 client organizations in North America, Europe and around the
world. Founded in 2000 and headquartered in New York, 451 Research is a division of The 451 Group.
Learn more.