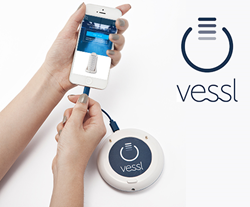 "Businesses offering Vessl to their clientele are raising the bar on Customer Service. It's an easy way to give mobile users that much-needed charge while they meet over coffee, lunch, or work. It's a perk that will soon be as ubiquitous as public wi-fi."
San Francisco, CA (PRWEB) January 07, 2015
Connect Group Enterprises, a company with offices in San Francisco and Seoul, South Korea, is bringing Vessl – an elegant, portable, and easy-to-use mobile phone charging device – to North American local businesses, event venues, offices and other social spaces.
Business owners make individual Vessl chargers available to customers for as long as they are on site. Vessl powers up to two smartphones at a time; once the customer is ready to go, he or she returns the charger and departs with a freshly charged device.
The Problem:
A mobile society has created a growing dependency upon mobile devices for work, home, play, errands and nightlife. Smartphones are used primarily to access online information, and all that data streaming drains batteries like crazy. No wonder "battery life" is the single most important factor cited when purchasing a smartphone. And the number one smart-practice to maximize a mobile phone battery? Charge it more often! The problem is: How and where can mobile society charge a smartphone quickly and easily?
The Solution:
Vessl is a portable, easy-to-use charger designed for service-based venues where customers spend a considerable amount of time. Restaurants, Cafes, Bars, Gyms, Salons, Hotels – can offer Vessl to customers, enabling them to charge smartphones while enjoying lunch, coffee, a meeting, or workout.
Everybody Wins:
Customers/Business Professionals using Vessl:

Busy people are delighted with the opportunity to charge smartphones while on the go.
A Vessl for every seat at the conference table ensures no one loses power during an important meeting.
Families and friends feel secure knowing they can be reached at any time, anywhere, with a fully-charged phone.
Businesses offering Vessl will see:

More repeat visits;
Longer visits mean more up-selling opportunity for staff;
Word-of-mouth/social sharing from establishments;
Increased marketing opportunity: brand the device with a logo and use Vessl's NFC technology to send promotions or content directly to the customer phone.
Vessl: Product Info
Charging stand holds 10 chargers; each charger charges 2 devices
Industry-Leading, High Quality Lithium-Polymer Batteries;
Connects/charges all major smartphones, many tablets;
30% faster charging than normal smartphone chargers.
"Vessl is a great addition for District! It helps keep our customer's happy and powered up...staying connected to the ones they love." -Jon D'Angelica, Owner of District Bar and Restaurant
An In-Demand Technology in Asia
Vessl – under the brand name PonBob– (ponbob.com)  – quickly became the most popular portable charging solution for venues across Korea and Japan after being introduced to the markets in 2013. Clients like Lotte, Hyundai, Samsung, Caffe Bene and more have made Vessl an important component of their work and social spaces. Connect Group Enterprises has partnered with PonBob to become the exclusive provider of Vessl here in the United States.