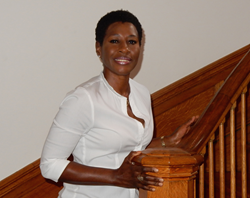 Mount Vernon and Westchester, NY (PRWEB) January 06, 2015
The Haute Living Real Estate Network (HLRN) of HauteResidence.com is proud to recognize Sylvia Woods as a prominent real estate professional and the network's newest partner. HLRN unites a distinguished collective of leading real estate agents and brokers, highlighting the most extravagant properties in leading markets around the globe for affluent buyers, sellers, and real estate enthusiasts.
About Haute Living Real Estate Network (HLRN):
Haute Living Real Estate Network (HLRN) of HauteResidence.com offers readers the most prominent directory of experienced realtors, brokers and luxury listings, and HLRN has grown to be the number one source for real estate news, residential developments, celebrity real estate news and more. Seeking an experienced interior designer? Hauteresidence.com is also home to Haute Design Network (HDN), a collective of celebrated interior designers that will help you decorate your new home or stage an active listing. Access all of this information and more by visiting: http://www.hauteresidence.com.
About Sylvia Woods:
Sylvia B. Woods is a real estate broker and consultant with 20 years of knowledge and experience in the industry. Her entrepreneurial drive, leadership skills, and community involvement has brought about much of her personal and professional success.
Sylvia wholly believes that building strong relationships is far more important than striving to achieve immediate, short-term gains and that strong client relationships ultimately reap rewards that last a lifetime. At the end of the day, Sylvia's main goal is to provide her clients with the best results with warm and friendly, top-notch service. A fantastic listener, she is always mindful of her clients' needs and wants, aiming to ensure they are consistently well met.
Sylvia's expertise covers not only the buying and selling aspect of the real estate industry, but also the policy development and decision-making it involves, having held several positions for the multiple listing services for Westchester and Putnam Counties, from "Secretary" to "Director at Large." With extensive knowledge of the industry, she is well equipped to help potential buyers locate their perfect homes, and to assist sellers in finding the best buyers for their properties.
Sylvia's background and past career are very diverse having had professional marketing experiences from South Carolina to New York. She began her early career as a member of the South Carolina Land Resource Development having gained her initial insight into real estate policy development. She holds an undergraduate degree from Benedict College—the largest HBCU in South Carolina, and a post graduate education from the University of New Haven in Connecticut having earned an MBA Degree. She is devoted to giving back and her philanthropic efforts continue to broaden.
Sylvia knows the true value of recognizing and achieving one's dream, from striving to establish one's professional career, to attaining one's ideal home. She is very familiar with the immense effort required to transform such dreams into reality, so she takes special pride in sharing one of the greatest moments in her clients' lives as they take the momentous step in buying or selling their homes.
The real estate market can change from year to year. It goes through different periods, highs and lows—but whether it be a buyer's market or a seller's market in place, Sylvia is able to pinpoint current market trends and generate tailor-made methods to satisfy her clients' real estate desires.
To learn more, visit Sylvia Woods' Haute Residence profile.