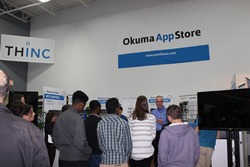 Therefore we feel it is important, as manufacturing professionals, to help students understand the education paths into manufacturing, as well as introducing them to the wide variety of career options
Charlotte, NC (PRWEB) January 06, 2015
Okuma America Corporation, a world-leader in CNC machine tool manufacturing, hosted "A Day at Okuma America Corporation" for area high school students at its Partners in THINC technology center on December 16, 2014 in Charlotte N.C. This special event gave students the opportunity to learn more about CNC machining and technology and to speak with Okuma sales and technical professionals in the CNC manufacturing industry.
Students learned about career opportunities as engineers, machine tool operators, programmers and service professionals. They also toured the facility and were able to see several cutting demonstrations on state-of-the-art machine tools.
"Our industry now has a significant shortage of skilled people that can operate, program and service the needs of manufacturing. This translates to a significant increase in career opportunities. Okuma understands that the talent to fill those opportunities comes from strong STEM programs in our high schools. Therefore we feel it is important, as manufacturing professionals, to help students understand the education paths into manufacturing, as well as introducing them to the wide variety of career options," said Denise Wilson, Human Resources Manager.
The Okuma sponsored Royal Robotics Team from Piedmont Community Charter School attended and demonstrated their award winning robot to the Okuma members. The Royal Robotics Team is a member of FIRST® (For Inspiration and Recognition of Science and Technology) and participates in the annual FIRST Robotics Competition.
Okuma is hosting several student-related, educational, events during the upcoming year including a special event in October to celebrate Manufacturing Day. For more information on Okuma America Corporation and Partners in THINC visit http://www.okuma.com/.
About Okuma America Corporation
Okuma America Corporation is the U.S.-based sales and service affiliate of Okuma Corporation, a world leader in CNC (computer numeric control) machine tools, founded in 1898 in Nagoya, Japan. The company is the industry's only single-source provider, with the CNC machine, drive, motors, encoders, spindle and CNC control all manufactured by Okuma. Okuma's innovative and reliable technology, paired with comprehensive, localized service protection, allows users to run continuously with confidence – maximizing profitability. Along with its industry-leading distribution network(largest in the Americas), and Partners in THINC, Okuma facilitates quality, productivity and efficiency, empowering the customer and enabling competitive advantage in today's demanding manufacturing environment. For more information, visit http://www.okuma.com/ or follow us on Facebook or Twitter @OkumaAmerica.
About Partners in THINC
Partners in THINC is a collaboration network of more than 40 industry leaders who come together to solve problems and explore new productivity ideas for real-world manufacturers. With the open architecture, PC-based THINC®-OSP control as its nucleus, Partners in THINC brings specialized equipment, expertise and a commitment to provide the best possible integrated solutions to the end-user. For more information, visit http://www.okuma.com/partners-in-thinc.
###