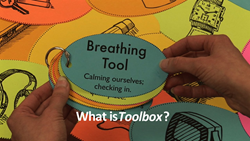 Toolbox is a beautiful example of the best that we hope for our graduates -- Sofia University Founder Robert Frager, Ph.D.
Palo Alto, California (PRWEB) January 06, 2015
Sofia University launches their 40-year anniversary as the premier transpersonal school in the heart of the Silicon Valley with its technology and humanist values-based Founders Series. On January 9 from 7 – 9 p.m., two graduates from Sofia (Mark A. Collin, MA, MFT, class of '76; and Chuck Fisher, PhD, class of 86') will showcase their entrepreneurial mission "The Toolbox Project" at the university campus.
Toolbox is a K-6 curriculum that supports children in understanding and managing their own emotional, social and academic success. Since Toolbox launched in 2006, this seminal work in translating the great wisdom traditions into a secular "common language" for children, their families and communities has been requested from over 20 countries and half the states. It is now in over 100 schools, including Berkeley, Boston, Montreal, and S. Africa.
"Together we're building children's capacity for learning and world citizenship through a common language based on personal and social awareness, self-mastery, non-violence, kindness & empathy for others," said Founder and Executive Director Mark A. Collin, MA, MFT.
His Holiness the Dalai Lama has endorsed Toolbox as a source of great optimism for the twenty-first century, and "The Toolbox Project" has been named a Communities of Promise partner program by the Sandy Hook Promise Foundation to promote social and emotional learning to help protect children from gun violence.
Mark and Chuck will each give a snapshot of the influence Sofia University had on their personal and professional lives. They will then share together about the nature of their transpersonal relationship, the work of Toolbox and its extraordinary effects in children, classrooms, and families.
"Toolbox is a beautiful example of the best that we hope for our graduates," said Sofia University Founder Robert Frager, Ph.D. "Mark and Chuck's work is going out into the world and touching thousands of people. For me as a professor, it doesn't get any better than that."
According to Frager, he's in dialogue with the two Sofia graduates about using Toolbox as a core element of the new Sofia University's M.A.in Transformative Education that is awaiting accreditation. "We'll do for teachers what we've done for psychologists for the past 40 years."
Visit the Toolbox Project website to learn more: http://www.dovetaillearning.org
About Sofia University
Founded in 1975, Sofia University, formerly known as the Institute of Transpersonal Psychology (ITP) is a private, non-sectarian school offering graduate and undergraduate programs at the intersection of psychology, spirituality, and technology. For almost 40 years, within the context of scholarship and research, the school has offered transformative education for the whole person, probing the mind, body, spirit connection.
According to Sofia University President Liz Li, Ph.D. who came onboard in July 2014, "Sofia is doing something unique in bringing together two seemingly different worlds of technology and humanistic values together. Not only does our curriculum promote creativity, cultural sensitivity and mindfulness, but also it brings essential skills and values to the next generation of well-balanced engineers, scientists and leaders in the world." Sofia is accredited by the Western Association of Schools and Colleges. We invite you to take a closer look into the Sofia experience and see for yourself if our university is the school for you. Visit our website at http://www.sofia.edu.