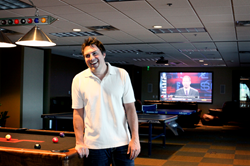 There we got to see not only the upcoming technology that companies are developing, but also see the products that are about to hit the market
Scottsdale, AZ (PRWEB) January 10, 2015
The 2015 International Consumer Electronics Show (CES) showcased consumer electronics of all shapes and sizes, and tech experts believe it was the largest showcase of Internet of Things products to date. Environmental Leader summarized the products that were showcased, and Jason Hope believes that some of these are a true asset to the consumer electronics industry.
Owned and run by the Consumer Electronics Association (CEA), the International CES was scheduled for January sixth through the ninth in Las Vegas. According to the Environmental Leader article entitled "Largest-Ever Internet of Things Showcase," which was published on December 30, this show brought to light Internet of Things services and technologies from a wide range of companies and vendors. Over 900 exhibitors are planning to bring products to the show.
Among those were Smart Home Marketplace, which showcased a home supplemented by smartphone and tablet-connectivity. With connected objects ranging from lighting systems to security systems, Smart Home Marketplace showcased the future of the home. Similar technology is expected from iDevices, Blinksight, Muzzley and Lowe's, among other vendors.
"The International CES was a great start to the year for those of us who are excited by the potential of the Internet of Things," said Jason Hope, futurist and tech expert from Arizona. "There we got to see not only the upcoming technology that companies are developing, but also see the products that are about to hit the market."
Those that attended this year's International CES also were able to see the technologies enabling the Internet of Things on showcase from Sensors Marketplace. Logbar, QuickLogic and eyeSight Mobile Technologies were all exhibiting at the show.
About Jason Hope
Jason Hope resides in Scottsdale, Arizona, where he uses his vast resources to support technology development and healthcare research that will help the local economy and the future of human health. He is a life-long resident of Arizona who is committed to giving back wherever he can. To learn more about his work, visit http://www.jasonhope.com.