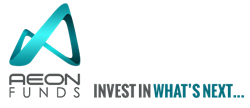 Red Bank, NJ (PRWEB) January 06, 2015
Aeon Funds, a family of alternative investment funds, announced today the launch of the Aeon Fiber Opportunity Fund LP. The new fund represents Aeon's commitment to developing unique alternative investments for sophisticated investors both in the US and abroad. The Aeon Fiber Opportunity Fund's structure is a complement to the Aeon Multi Opportunity Fund which focuses on Pre-IPO investments in the most notable VC backed technology companies in the world today. The fixed income portion of the Fiber Opportunity Fund represents a compelling diversification strategy for sophisticated investors.
Aeon Funds has expanded its management team and commenced fundraising for this exciting new addition to the Aeon family. The Aeon Fiber Opportunity Fund will initially invest in the installation of military grade fiber-optic cable in gated communities throughout the US Southeast. As a significant validator of the market opportunity, Aeon management estimates there are approximately 35,000 communities in Florida alone. The capital to be raised will be used to support the marketing and installation efforts of Aeon's operating partner Delcom Telecommunications, LLC, of Pompano Beach, Florida.
The Aeon Fiber Opportunity Fund LP is structured as a Delaware partnership for accredited investors and qualified purchasers. Each fund unit will consist of both a fixed income and equity component. Based on Delcom's current pipeline in Florida, it is anticipated the fund will initially be seeded with $25 million.
"We are extremely excited about partnering with Delcom in this venture," stated Brendan Rempel, Aeon Fiber Opportunity Funds Manager and Co-Founder. "The Aeon team believes Delcom has an extraordinarily compelling business model."
Mr. Rempel further noted, "Given the lack of broadband infrastructure spending by the incumbent cable providers over the past 10 to 15 years in these types of communities, coupled the growing demand for bandwidth, the market is ready for a next-generation technology and service provider. Delcom's management has combined over 70 years of industry experience and has built telecommunications systems throughout the world clearly validating their expertise and capabilities.
Delcom's Co-Founder and CEO, Donald Smith stated, "We share Aeon's excitement in what we describe as Delcom's advanced 'Fiber-to-the-Home' model. Delcom's model gives us the ability to virtually future-proof communities from the current broadband problems that are being felt today and will continue to be felt in the very near future as daily the demand for robust broadband increases exponentially."
Mr. Smith concluded, "We sit in a very unique position of having the experience and expertise to design, build and operate our properties all in-house. This gives us the ability to provide exceptional customer service, which we believe is the essence of our product."
Joining the Aeon Funds' management is Mr. Robert Wheeler, a twenty-year veteran of Wall Street, whose expertise is financial structuring and analysis. Mr. Wheeler worked for Miller Tabak Roberts prior to joining the fund.
The Aeon Funds Founder, Demetrios Mallios, said, "With the rapid growth of the Aeon Funds, we continue to add top talent to our team. Robert Wheeler brings the necessary expertise required to continue to build this organization. Our new Aeon Fiber Opportunity Fund is a continuation of our mission….to invest in what's next."
About Aeon Funds
Aeon Funds are a family of non-registered, independently managed and administrated, special purpose, multi-series, alternative investment funds servicing accredited investors and qualified purchasers in the USA and abroad.
About Delcom
Delcom designs, implements, manages and supports state of the art Fiber Optic based infrastructures. At Delcom, we provide our clients with more freedom, value and control over their TV, Phone, Internet, Home Entertainment and Security. With our boutique approach, we raise the bar of quality, support and service from installation to the end user experience. Delcom's expertise provides developers, builders, Home Owners Associations (HOA), management companies and luxury rental communities the best solution for a nearly future proof infrastructure.
Read a fund's prospectus and summary prospectus (if available) carefully before investing. Itcontains the fund's investment objectives, risks, charges, expenses and other information, which should be considered carefully before investing. Obtain a prospectus and summary prospectus (if available) via email at fiber(at)aeonfund.com. The Aeon Fiber Opportuntiy Fund LP and/or any investment in any of the Aeon Family of Funds may not be suitable for all investors. Investing involves risk and special consideration, including the possible loss of principal. There are no assurances that the Fund will achieve its investment objective and/or strategy. Investments in the fiber optic industry, subjects the Fund to the same risks as direct investments in fiber optics, which are particularly sensitive to economic downturns. Investments in small or medium sized companies may involve greater risk than investing in larger, moreestablished companies. Investments in securities of smaller issuers can be more volatile than that of larger issuers. Investments in micro-cap stocks involve substantially greater risks of loss and price fluctuations because their earnings and revenues tend to be less predictable and their shares tend to be more volatile and their markets less liquid than companies with larger market capitalizations. The Fund may not be fully invested at times, either as a result of cash flows into the Fund, reserves of cash held by the Fund to meet redemptions and expenses, or if the Fund uses a "sampling" approach. This Fund is considered non-diversified and can invest a greater portion of its assets in securities of individual issuers than a diversified fund. See the Fund's Prospectus for more information on these and other risks.