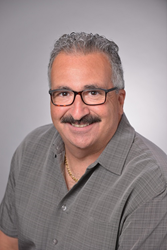 Monroe, CT (PRWEB) January 05, 2015
Dr. Richard Amato, a leading periodontist in Connecticut, is pleased to announce that he is expanding his patient base to include those suffering from peri-implantitis. Patients with dental implants in Monroe, CT can now receive a specialized treatment known as LAPIP®, a laser gum surgery designed for those with the condition, which is similar to periodontal disease. Patients with periodontitis often have swollen, bleeding gums, bone loss and gum recession. However, all of this occurs around a dental implant instead of a real tooth.
Peri-implantitis is caused by poor oral care or due to the effects of other unrelated diseases. When individuals in Monroe, CT with dental implants fail to properly care for their new teeth, their gum disease symptoms may return and they risk losing their implants. The condition has also been linked to heart disease, pancreatic cancer and stroke. Those with the condition also have a greater chance of developing several other serious medical conditions, so it is vital that patients with these symptoms receive treatment as soon as possible.
While the PerioLase®MVP-7™ was designed for use in the LANAP® protocol in the treatment of periodontitis, the laser has been shown to be safe for use on dental implants as well. LAPIP® has taken the tried and true methods used in the LANAP® protocol and modified it to fit the specific needs of patients with peri-implantitis. Using the laser, Dr. Amato targets and removes the diseased gum tissue surrounding an implant easily and effectively. This allows the gums to reattach to the implant and heal, all without harming any nearby healthy tissue. It can also stimulate the bone to regrow, which may help patients keep their implants and any existing surrounding teeth.
Patients in Monroe, CT with dental implants who are experiencing swelling, bleeding gums and other signs of infection are urged to contact Dr. Amato's office right away. Treatment for their condition can help prevent further loss and damage to the mouth and leave patients once again happy with their smiles.
About the Doctor
Dr. Richard Amato is a periodontist and dental implant specialist who provides personalized dental care using the most advanced technology for patients in Monroe, Connecticut. He has placed thousands of dental implants since 1989. Dr. Amato earned a DDS degree from Stony Brook University. He then completed a full time multi-year specialty residency and received his Certificate of Proficiency in Periodontics from Eastman Dental Center at the University of Rochester. He belongs to the one percent of dentists in the USA currently providing the first FDA-cleared laser procedure for gum disease treatment. Dr. Amato is the first and most experienced provider of LANAP® therapy in Fairfield County, Connecticut as well as the only Periodontist to provide the Pinhole Surgical technique in CT. To learn more about Dr. Amato and his dental services, visit his website at http://www.connecticutperiodontist.com and call (203) 712-0917.