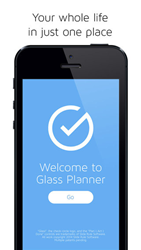 With Glass Planner, 'big planning' is finally easy on small screens.
London, England (PRWEB) January 07, 2015
Glass Planner, a personal planning app by indie developer Slide Rule Software, launched this week on iTunes. Designed first and foremost for small devices, Glass is intended to streamline planning by keeping all planning items in one place—the user's Glass calendar. When it's time to get things done, this calendar morphs into a simple, distraction-free action list, showing only items the user can work on now, in general order of priority.
"In traditional planning systems, you placed your to-do list items in one big list, or in several lists, and your appointments and deadlines went into your calendar," said William Petty, lead designer of Glass and CEO of Slide Rule Software. "Every time you wanted to get something done, you'd have to look at all these separate sources and decide what to do next. A lot of time was involved in just staying on top of these systems, and tracking separate lists and calendars on a small screen was no fun."
Glass eliminates much of the planning overhead of traditional systems, freeing the user to focus on getting things done. Every action item in Glass—whether it's a to-do list item, a deadline, or an appointment—lives on a date in the Glass Calendar from the start. Automatically, this creates a rough sense of priorities, with more urgent items coming first, and less urgent ones later. Glass offers two ways to view this calendar: "Plan" view shows everything, and provides a broad overview for planning purposes, while "Act" view shows only today's appointments and only those action items that can productively be worked on now, listed in rough priority order. The user can refine these views further by touching and dragging items, creating exactly the sequence that best suits today's schedule. Checklists or dated subtasks can be attached to any action item, and other features allow items to be filtered by location and context.
"When it's time to get things done, a lot of traditional planning systems leave you staring at a lot of things you can't do much about. And with screen real estate at a premium on today's small devices, that's not a smart approach," said Petty. "With Glass Planner, 'big planning' is finally easy on small screens."
For more information, see http://www.sliderulesoftware.com
About:
William Petty is a London-based developer, and CEO of Slide Rule Studios. He studied computer science at Brown University during the first stages of Macintosh computers. After graduating in 1985, his interests skewed from the tech industry and he became more involved in traditional businesses, including real estate, and restaurants – this encouraged Petty to create Glass, as he became more interested in organization and planning, rather than technology.