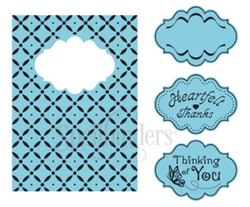 We have taken the embossing technology one step further to provide creative inspiration, and maximum versatility for fantastic results
Phoenix, AZ (PRWEB) January 06, 2015
Spellbinders® Paper Arts, an award-winning inventor, manufacturer and marketer of industry-leading products for crafters of all genres, is excited to announce the introduction of 12 Interchangeable Em-bossing Fold'ers. The new product line will be showcased in Booth #2345 from January 10-13, 2015 at the 2015 CHA Mega Show in Anaheim, CA.
Building on the technology of the Embossing Folders that sculpt paper and foil surfaces, the Interchangeable Em-bossing Fold'ers allow for amazing and diverse results. For three times the creativity, the folders provide more design options to produce beautifully detailed embossed and letterpress creations. Each of the 12 embossing folders come with three interchangeable embossed designs for snapping into the cutout in the center.
"We have taken the embossing technology one step further to provide creative inspiration, and maximum versatility for fantastic results. We will have projects in our booth showing this striking technology in which you will be able to see materials curved and molded into multi-dimensional shapes and images," said Stacey Caron, Spellbinders President and Co-Founder.
Suggested Retail Pricing (SRP) for the Interchangeable Em-bossing Fold'ers is $8.99. Please visit http://spellbinderscreativearts.com/ for more product information, ideas and inspiration. Shipping to retail stores in February 2015.
About Spellbinders Paper Arts
Spellbinders entered the craft and hobby market in 2003 with the introduction of the Spellbinders Wizard™ Universal Craft Tool and the industry's first incremented nesting dies that cut, embossed and stenciled. A pioneer of innovative technology, the company's revolutionary dies changed the format of manual die cutting worldwide. Always on the cutting edge of introducing innovation to the market, the company is known worldwide for its game changing products with more than 250 patented and patent-pending products across a different variety of craft genres.
In 2012, the company received the Craft & Hobby Association (CHA) 2012 Summer Innovations Award for the Spellbinders Nestabilities® Majestic Elements line. Spellbinders President and Co-Founder, Stacey Caron, has been honored with numerous awards including four Stevie® Awards and an Enterprising Women Award.
For three consecutive years, Spellbinders Paper Arts has been listed in the Inc. 500|5000, an exclusive ranking of entrepreneurs nationwide. Visit http://spellbinderscreativearts.com/ or e-mail info(at)spellbinders(dot)us for more information.
Copyright© 2015 Spellbinders® Paper Arts LLC. All rights reserved. Spellbinders and the Spellbinders logo are trademarks of Spellbinders Paper Arts LLC. Spellbinders product specifications are subject to change without notice. All other trademarks are the property of their respective companies.