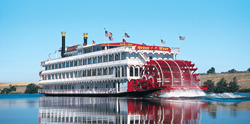 Now offering more than double the number of cruises since its first season in 2010, Queen of the West has proved to be a great success. Increasingly more people are finding the comfort and convenience of modern riverboats appealing. Timothy Beebe, VP, ACL
Guilford, CT (PRWEB) January 06, 2015
American Cruise Lines (http://www.americancruiselines.com) announced today that this year will mark its fifth season on the Columbia and Snake Rivers with Queen of the West. To kick-off the anniversary, the company has a special celebration planned on the very first cruise of the year, which departs on March 28th. This includes a complimentary pre-cruise package, which features a bonus night onboard the riverboat with added events and tours, including:
-Pittock Mansion – A private tour of the historic estate which is celebrating its 100-year anniversary. Afterwards, guests will enjoy a special reception hosted by the Executive Director.
-Portland Saturday Market – A special visit to one of the largest open air markets in the United States, which offers a celebration of spring and the artistic culture for which Portland is known.
-Welcome Reception – Guests will arrive at the Queen of the West and be welcomed aboard by musical entertainment and a champagne toast.
-Welcome Performance – Guests are invited to an evening show the night before departure, featuring the musical duo Dave & Bo as they perform music from the Great American Songbook.
"Our guests are in for a treat," said Timothy Beebe, Vice President of American Cruise Lines. "We have some exciting festivities planned and look forward to celebrating this important milestone with them."
"Now offering more than double the number of cruises since its first season in 2010, Queen of the West has proved to be a great success," added Beebe. "Increasingly more people are finding the comfort and convenience of modern riverboats appealing."
American Cruise Lines acquired Queen of the West in 2009, and since has completed various multi-million dollar renovations on the riverboat. While maintaining its historic look and feel, Queen of the West was updated with all modern conveniences, including oversized staterooms and private balconies. Sailing on the Columbia and Snake Rivers, guests learn about the Lewis and Clark expedition while enjoying the Pacific Northwest's breathtaking views. Throughout their eight-day journey, guests also enjoy complimentary shore tours in each port and a personalized experience onboard.
American Cruise Lines is currently building a new Columbia riverboat, which has a planned capacity of 175 passengers. The new riverboat will allow American Cruise Lines to offer expanded itineraries on the Columbia and Snake Rivers, adding new cruise options for those looking to experience this unique region.
About American Cruise Lines
American Cruise Lines is the largest U.S. cruise company and operates the newest fleet of riverboats and small cruise ships on more than 35 itineraries around the country. The line is known for working closely with guests and travel agents before, during, and after a cruise to create a highly personalized experience. Long established and deeply experienced in cruise travel, American Cruise Lines has most recently received world-wide recognition as the first line to revive paddlewheel river cruising in America. To learn more about American Cruise Lines, visit http://www.americancruiselines.com or call 800-814-6880. Find us on Facebook at http://www.facebook.com/americancruiselines or follow us on Twitter at http://www.twitter.com/american_cruise.