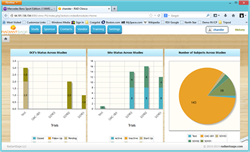 Belmont, Mass. (PRWEB) January 06, 2015
Radiant Sage LLC, a provider of on-demand clinical trial imaging infrastructure solutions, today announced the release of its Clinical Trial Management System (CTMS), RadClinica™ version 3.0. This single, centralized system adds to the Corelab-In-A-Box platform (see recent release for version 3.1) by providing a set of features to manage the execution of multiple imaging studies with real-time access in a cloud-based platform.
"Today it is very common that key stakeholders in a clinical trial are located around the globe, making communication, collaboration and management a challenge," said Jesse Bowden, COO of Radiant Sage. "However, with cloud-based applications, like our RadClinica CTMS, all users have real-time access to the information as data is collected, processed and managed."
RadClinica has been specifically designed to orchestrate operational, training and administrative activities of multiple imaging clinical trials. It is integrated with Radiant Sage's other imaging products to provide a comprehensive software suite. Version 3.0 offers the following new features and functionality:

Easy Study protocol setup and management
Site collaboration
Subject enrollment and management
Site management including initiation
Supply and packaging
Organize contacts
Query Management
Training management and modules
Document tracking and management
Task-based workflows
Support ticketing system to manage technical and trial support activities
MCC Reports and analytics
Communication management (emails, alerts, phone calls, etc.)
Seamless integration with our Core-Lab-in-a-Box using web-based protocols, image process tracking
About Radiant Sage
Radiant Sage provides game-changing Clinical Trial Imaging Infrastructure Solutions for organizations involved in drug discovery and research. Specifically designed for clinical trials, the company's solutions, RadClinica™, Corelab-in-a-Box™ and RadVista™ Viewer are extremely flexible and offer self-contained customization tools enabling rapid trial start and increased overall efficiency of the collection, distribution, processing, and analysis of clinical trial imaging data. The use of Radiant Sage's technologies provide sponsors with the ability to retain control of their clinical trials by leveraging these cost-effective image management solutions designed with real-time transparency in reporting at every level of the entire process. These secure and validated tools also offer increased image/data integrity over current corelab processes and meet all necessary compliance requirements. Founded in 2008, Radiant Sage is headquartered in Boston, Mass. For more information on Radiant Sage, visit http://www.radiantsage.com.
###