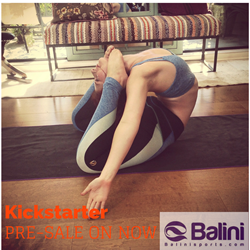 My goal is to share the benefits of yoga with teenagers because I believe we are the ones who are able to reap the most benefits. By Alexis Baranoff
Los Angeles, CA (PRWEB) January 07, 2015
Alexis Baranoff Stars in Popular BaliniSports Kickstarter Campaign
BaliniSports is featuring Alexis Baranoff in the brand's new Kickstarter campaign. Baranoff showcases the grace and flexibility of the apparel line's pieces through a series of filmed movements. While the video will be the first glimpse many Kickstarter supporters get of the yoga starlet, most people in the yoga world are already familiar with Baranoff's impressive résumé. Ada Hung of BaliniSports handpicked the shining athlete to represent the brand's Kickstarter campaign because she embodies the same dynamic attitude that BaliniSports strives to spread throughout the world.
"The reason we chose Alexis to be our model is because she is someone I truly admire," Hung recently told the press.
Baranoff is one of the most popular and revered yoga professionals in the world today. She has left judges in awe at many national competitions over the past few years. She now strives to share the empowering benefits of yoga with other teenagers. In addition to winning multiple yoga competitions, the young athlete has also been hard at work studying Behavioral Neuroscience at UCLA. She is known for her humble attitude and amazing work ethic. In fact, Baranoff has been starting her yoga workouts at dawn religiously since the age of 13. Her schedule throughout high school consisted of training for competitions while excelling at advanced placement courses.
"Yoga has given me a place and purpose in my life," noted Baranoff. "I've been so gifted to have found my practice when I was 13 years old and continue that practice throughout high school and college.
"The yoga culture creates an environment of love and acceptance that I just didn't find within the high school or college culture," Baranoff shared. "I was able to reap so many benefits and have a positive outlet for common adolescent pressures. My goal is to share the benefits of yoga with teenagers because I believe we are the ones who are able to reap the most benefits."
The athlete's collaboration with BaliniSports is fitting since the brand is focused on producing clothing in an ethical manner and promoting empowerment among women.
Baranoff also credits yoga with keeping her grounded as she struggled with the fame that came with being a successful athlete at a young age. Many of her followers are quick to point out that she was never photographed partying or caught showing up late for competitions or practices. The athlete credits the empowerment found in yoga with helping her to remain balanced and focused on her goals when temptation kicked in. She also credits support from coaches and other yoga athletes with helping her to stay true to herself when peers began drinking and staying out late.
As she continues to balance her success in the yoga world with her ambitions of becoming a professional in the medical field, Baranoff is more passionate than ever about spreading the nurturing power of yoga to people of all ages. The athlete's interest in studying Behavioral Neuroscience also ties into her passion for yoga. "I hope to one day integrate yoga ideals into psychotherapy as a holistic way to combat depression, stress and mental disorders," she said.
Exclusive footage of Alexis Baranoff can be viewed in the BaliniSports Kickstarter campaign that continues from now until the end of January. Pieces from the line worn by Baranoff in the video can currently be purchased on the BaliniSports webpage.