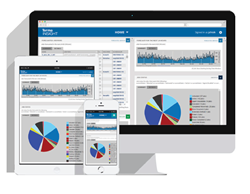 Our goal is to continue to provide advanced IT analytics solutions to enable large organizations to have actionable understandings of the impact of IT on the business.
Boulder, CO / New York, NY (PRWEB) January 06, 2015
Terma Software announces today record growth in fiscal 2014, resulting in the highest revenue year in the company's history. 2014 was a milestone year for Terma which included substantial growth in the business, release of a new companion product to Terma's flagship product, JAWS, and the appointment of a new CEO, Shane Hade. In October, Terma released TermaINSIGHT, which provides visibility into the Cisco Tidal and CA7 workload environments though an easy-to-use web-based interface (with support for CA's AutoSys product available mid-2015.) Terma's real-time and predictive analytics offerings provide unparalleled insight into the workload processes for every enterprise seeking to gain a strong position in the IT Operations Analytics (ITOA) maturity model.
In January, the Terma Board of Directors appointed a new CEO, Shane Hade. Subsequent to his arrival, Hade has redoubled efforts around ensuring and extending value to the current customer base, and has built out his executive team with additional experienced leaders with strong, execution focused track records. Hade believes that the cornerstone of Terma's success this year was due in part to the fact that IT operations decision makers realize that they must take a more proactive approach to service management as technology becomes increasingly complex.
Hade cites analysts including Gartner and other industry experts who have shown their enthusiasm for the technology, saying, "IT budgets fell sharply according to Gartner over the past few years and are currently only at 2005 levels. That means that IT operations teams are forced to function with fewer people and resources, while managing the new complexity that comes from hybrid environments and the rapid pace of change. Our customers are challenged to increase productivity while lowering costs – not a simple proposition. This reality explains why the deployment of IT Operations Analytics (ITOA) solutions like our JAWS Workload Analytics platform in large enterprises is expanding exponentially."
Hade continues, "Gartner forecasts a 100% increase in ITOA spending worldwide over the next two years, and our rapid growth over the past year indicates that they are correct in their analysis of the market. Our goal is to continue to provide advanced IT analytics solutions to enable large organizations to have actionable understandings of the impact of IT on the business."
Jim Anderson, V.P. of Product Strategy at Terma, comments, "We see good opportunities to expand Terma's portfolio of products consistent with our stated strategy and we will continue to further enhance the existing products. We are actively pursuing additional integration opportunities between our platform and other strategic technologies and are optimistic that these will contribute to continued growth over the next year and beyond."
Hade adds, "In head-to-head comparisons of features and functionality, as well as by anecdotal client assessments – the sole competitive product on the market shows to be vastly inferior to JAWS. Our competitive position has contributed enormously to the success we have enjoyed this year and we look forward to continued growth in 2015."
About TERMA
Over the past decade Terma has developed the industry's most comprehensive knowledge of workload data and the ability to leverage that understanding to provide measurable business analytics. Terma's products, TermaINSIGHT and JAWS Workload Analytics, enable companies to optimize their workload processing and realize more value from their automation tools by providing SLA management, forecasting, prediction, and reporting. The products ensure that companies can lower their costs and improve the reliability and performance of their mission critical workloads.