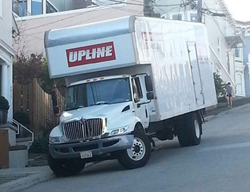 don't worry, a good moving company is never fazed by tight schedules or difficult times
San Francisco, CA (PRWEB) January 26, 2015
Moving is stressful any time of year, but January can be a particularly challenging time. People are catching up from the holidays, the kids are back in school and trying to keep those resolutions … which are hard to stick to anyway!
It brings other challenges, too. It's harder to sell houses in the winter, and harder to find good rentals because inventory is lower. That means people have to both plan ahead and be ready to go at a moment's notice.
"Moving on, is a simple thing, what it leaves behind is hard." Said Dave Mustaine an American Musician related to Jim Morrison, and he was right, "don't worry, a good moving company is never fazed by tight schedules or difficult times" says the CEO at Upline Bay Area Moving Company and the customers agree with him, "Max at Upline Moving has been our main office contact and was very helpful to ensure the move out/move in dates accommodated our schedule," says one satisfied customer.
Not even damp, rainy or foggy weather can interfere good moving companies with their ability to provide excellent service while caring for their customers' special possessions. "Alexis, Luis and Adam were very efficient and careful with all of our belongings. They also frequently checked in with us to see how we wanted things packed" said another happy customer.
The New Year is a more common moving time than people may think. Many people receive job offers at the end of the year that start in January and February. Others may have been planning to move for a while, but were waiting until the busy holiday rush was over. And others still who, have to move unexpectedly.
Moving in the New Year doesn't have to be another headache on an ever-growing to-do list. It can even be a pleasant (yes, pleasant!) process. Because a good moving company strives to provide a complete moving experience, customers can ask their movers for tips on finding the best food joints in the neighborhood, grocery stores that fit people's lifestyle, or the secret station where gas is cheapest.
Sure, packing, moving and unpacking boxes is what pays the bills, but it isn't why these experienced professionals are in the business. They're here for us, no matter what the time of year.
"At our company we believe in flexibility and good service, and knows the best way to provide those things is to offer a wide reach." Says the CEO. "That's why we're not only serve the whole Bay Area, including San Francisco, East Bay, North Bay, South Bay, Peninsula and Santa Cruz, we also serve various parts of California, like Los Angeles, Santa Clara and neighboring counties." he added.
So what makes Upline special? Their experienced personnel take care of every part of the process, from packing to scheduling to loading, moving and unpacking once again. They also deal with insurance and storage when necessary, and creating a hassle-free experience. Whatever the case may be, if they're ready to go, Upline is ready to help with exceptional Bay Area moving company service.