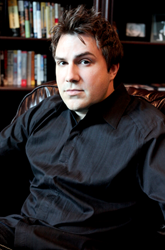 The Internet of Things may give Yahoo! the tools it needs to finally turn around," says Jason Hope. "Things are looking up for the company as they embrace this growing field
Scottsdale, AZ (PRWEB) January 16, 2015
Yahoo! may have been left behind in the Internet world in the rise of Google, but it's trying to make a comeback in the Internet of Things. Through wearables and mobile devices, Yahoo! is attempting to transform itself into a big player in the world of apps, as reported by Finanical Review. Jason Hope, futurist and entrepreneur from Arizona, believes that Yahoo! may have a shot at reaching this goal, if they position themselves well in the industry.
In the article entitled "Yahoo! sets sights on the Internet of Things," Hannah Kuchler of Financial Review said, "Yahoo! is setting its sights on the growth of wearables and other mobile devices." This was clearly seen when Yahoo! developed its own version of Yahoo! News Digest for the Apple Watch. Through the Apple Watch, Yahoo! hopes to create a new home not only for its existing apps, but also for new user experiences it hopes to develop.
"It's the potential of the Internet of things that is appealing to companies, like Google, that have not found their online niche quite yet," says Jason Hope. "With so many different platforms, niches and potential devices, the opportunity is there for companies, like Yahoo!, that want to step up and take charge."
According to the Financial Review article, which was published on December 30, Yahoo! is considering not only adding apps and software to the Internet of Things, but also the potential to add its own hardware to the market. According to Adam Cahan, senior vice-president of Yahoo! mobile, Yahoo! was not restricting itself to working only with Apple or any other one product maker, and is completely open to making its own wearable or other form of hardware.
The mobile market has been a good one for Yahoo!, bringing in over $700 million in the third quarter of 2014. Shares in the company have also been on the upswing as the company turns its sights onto the Internet of Things.
"The Internet of Things may give Yahoo! the tools it needs to finally turn around," says Jason Hope. "Things are looking up for the company as they embrace this growing field."
About Jason Hope
Jason Hope, an Arizona native, is excited about the potential of the Internet of Things. As a futurist and entrepreneur, he uses is resources and wealth to further the development of this growing sector. Learn more about his work at http://www.jasonhope.com.