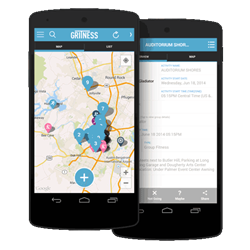 The latest combination allows businesses to reach users that traditionally attend MINDBODY classes and also reach Gritness app and website users at the same time
(PRWEB) January 07, 2015
Gritness is now integrated with MINDBODY, the world leader in software for over 35,000 class and appointment-based businesses. Starting today, businesses that utilize MINDBODY to organize their business can share their schedules with the world on the fastest growing group fitness search engine, Gritness. With Gritness' recent integration with MINDBODY, businesses can have their MINDBODY schedules appear in the Gritness Group Fitness Search Engine as well as on their own web company website. With the integration, a business' service offerings will show up anytime a potential customer launches the Gritness apps or website and searches for fitness options near them. This includes the Gritness web app, iOS and Android mobile apps that are free to use for all users and non-business offering subscribers.
Gritness Co-Founder, Tommy Fad, stated that; "We notice other apps in our space which re-sell class spots. This is great if you are looking for a workout with a business, however we are seeing more and more workouts like The Rise (NYC) and November Project who do not have a payment component, they simply want to give people an option to get fit. Just because these groups don't charge for workouts does not mean that there is not an opportunity. They are some of the fastest growing fitness movements. Regardless of payment, we want to show our users where to find these fitness activities."
The setup process requires only a few mouse clicks. Once a business subscribes to the service, Gritness will email a link that enables access from Gritness to a business' MINDBODY schedule. From there, Gritness ensures a business' service offerings are kept up to date so that new customers can find activities from anywhere. The service provides an alternative to generating leads from SEO or Facebook and Google Advertising by enabling businesses to reach more customers and market their activities to demographics outside of what they may consider their typical marketing channels.
Why MINDBODY?
The latest combination allows businesses to reach users that traditionally attend MINDBODY classes and also reach Gritness app and website users at the same time MINDBODY brings their industry leading online booking and scheduling features into Gritness' search engine to expand MINDBODY's online reach and give athletes an easier way to discover the MINDBODY classes they want to attend.
How Gritness Works
Gritness is an interest based platform that helps users find group fitness activities ranging from cycling, to running, yoga, and everything in between. The app also gives businesses and groups a platform to schedule and list their activities. Available for iOS and Android, Gritness connects people, and sparks motivation by helping users find and create group fitness activities.
At its very core, Gritness aims to be the home for group fitness activities all over the world. Individuals and business owners alike can create an account for free and have access to everything Gritness has to offer.
The application allows users to both create and join group activities in their area. Whether users are already working out alone or looking for people to join them; or if they are trying to find people to help meet fitness goals, Gritness helps to do it all.
If users are not sure what to look for, they can use Gritness' local map to check out all nearby activities and find something that sounds right at any fitness level. Gritness is a global app, so for our travel savvy users, check the local area for people to work out with or post a workout plan for the locals to join in.
About Gritness
Gritness (Gritness.com) launched in Austin, Texas in June of 2013 by co-founders and avid cyclists, Jason Whitson and Tommy Fad. Whitson and Fad's vision is to ignite group fitness by creating a digital resource that allows members of the fitness community to discover, organize and create fitness events. Today, Gritness hosts thousands of group and event listings helping organize fit lifestyles by focusing on an underserved area of digital fitness, pre-activity tasks and coordination. To learn more about Gritness and create a free account, visit http://www.gritness.com.