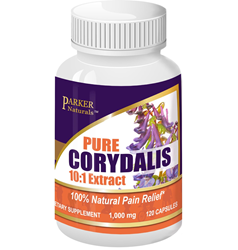 (PRWEB) January 06, 2015
Specialists in natural supplements, Parker Naturals is happy to officially announce the launch of a new Pure Corydalis product on Amazon.com. Scientifically formulated to naturally remedy pain, this supplement uses the root of a well-known plant. Corydalis, also known as the Chinese Poppy plant, has been used for thousands of years in traditional medicines. New research is highlighting the benefits of this herbal substance in suppressing pain. Parker Naturals new Pure Corydalis supplement is highly concentrated and promises to deliver exceptional results.
In January 2014, the Current Biology journal highlighted a study by Y. Zhang from the University of California, demonstrating the important analgesic properties present in Corydalis roots. These compounds have been shown to treat a range of pain including inflammatory, acute, and chronic or neuropathic pain. Although it's been long established in Chinese medicinal treatments that Corydalis is a highly beneficial plant, this latest research has catapulted this herbal remedy into limelight. Now respected healthcare professionals, such as Dr. Oz, are encouraging patients suffering from pain and/or inflammation to consider taking a quality Corydalis supplement as an alternative to pharmaceutical treatments.
Ms. Parker, founder and CEO of Parker Naturals, highlights some of the many benefits offered by their premier Pure Corydalis supplement: "Scientists have confirmed that Corydalis can help to remedy pain caused by inflammation and nerve or muscle spasms. The roots of this plant have been used traditionally to remedy back pain, menstrual discomfort, headaches, and migraines, amongst other ailments. The best news about Corydalis is that it's completely natural and doesn't come with the same risks as prescription pain medication."
About Parker Naturals
Parker Naturals is committed to providing only the best possible products. Their 100% natural supplement uses premium quality Corydalis root sourced from specific sites renowned for their purity. This Pure Corydalis supplement is manufactured in facilities that have been FDA approved and adhering to strict cGMP. Extra strength, this is strongest Corydalis supplement available on Amazon.com. For a limited time customers can purchase this supplement at a special introductory price, while current supplies last.