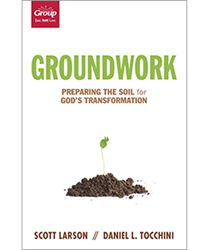 "This is not a program to change people. It is a model for engaging people. Engaging them in ways that create the groundwork we have found to be conducive for experiencing the transforming power of God." -- Scott Larson & Daniel Tocchini
Loveland, Colorado (PRWEB) January 12, 2015
Ministry leaders are frequently called upon to lead transformation within their churches but often do not understand the fundamental nature of how change really occurs in the heart. Like throwing good seed onto poor soil, leaders miss the groundwork needed to produce genuine change.
In the newly released book, "Groundwork: Preparing The Soil for God's Transformation," authors Scott Larson and Daniel Tocchini offer pastors and ministry leaders an authentic and practical approach for helping people desire and seek out transformational change.
"This is not a program to change people," Larson and Tocchini write. "It is a model for engaging people—whether business executives or alcoholics, churchgoers or anyone else—engaging them in ways that create the groundwork we have found to be conducive for experiencing the transforming power of God."
"Scott Larson and Daniel Tocchini have provided a valuable manual for transformation and growth. I will be using this book both personally and as a coach for years to come."—Dr. Monte E. Wilson, author of Legendary Leadership
About the authors: Scott Larson, the president and founder of Straight Ahead Ministries, said he based much of the book off of his personal journey and experiences working with juvenile offenders for the past 27 years. Specifically, Larson explained he drew upon times he felt hopeless in his ministry and needed a change of perspective.
Daniel Tocchini, founder of the Association for Christian Character Development, adds his experience working with a variety of audiences ranging from Fortune 500 companies to local church leaders. Tocchini was also mentored by Dallas Willard, a well known writer and philosopher who specialized in the philosophy of mind and logic.
ISBN: 978-1-4707-1845-9
Release: 1/2015
Pages: 200
Size: 6 x 9
Binding: Soft cover
Price: $12.99
Copies of the book can be ordered from: Group.com.
Questions about the release of Groundwork may be directed to Becky Hodges at (970) 292-4245 or bhodges(at)group(dot)com.