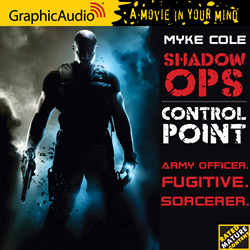 GraphicAudio dramas provide a lot of other layers, from sound effects to ensemble acting casts, which has always been a richer experience for me.
Bethesda, MD (PRWEB) January 14, 2015
GraphicAudio® A Movie in Your Mind takes you on an audio journey with sound effects, music and a full cast to enhance SHADOW OPS: CONTROL POINT.
Myke Cole says "I've been a big GraphicAudio fan since they did the dramatic rendition of Peter V. Brett's THE WARDED MAN. Audiobooks have been a staple of my reading diet, and I have always appreciated good voice acting, but there's an extra mile in GraphicAudio's work that gives a different experience. An audiobook reads to you, GraphicAudio dramas provide a lot of other layers, from sound effects to ensemble acting casts, which has always been a richer experience for me.
I'm a big NPR listener, and one of my favorite shows was always The Big Broadcasts, which replayed radio dramas from my parent's generation (Gunfight at the OK Corral, Johnny Dollar, Dragnet, etc…) I was always amazed by how well these shows held up for a person like me, growing up on TV and now fully in the Hulu and YouTube generation. By removing video from the equation, but leaving everything else, that show gave me a way of enjoying a story that I hadn't known I'd been missing.
Really excited to finally have that for my own work."
In SHADOW OPS: CONTROL POINT the Great Reawakening changes everything: around the world, people can suddenly use magic, giving them the ability to command fire, the weather, even make the dead walk. But great power doesn't mean great control, and the government is soon forced to enact draconian laws to bring order to the sudden chaos. Soon, magic is militarized, and resistance to the anti-magic regime begins to grow…
But not all magic is treated equally.
Oscar Britton is an Army specialist trained in combating magical persons resisting the government-mandated conscription. When he manifests a "prohibited" magical ability, the service he has dedicated his life to suddenly makes him a target. Oscar Britton thought he knew all there was to know about magic. He thought he knew his government.
He was wrong.
SHADOW OPS: CONTROL POINT is available from http://www.GraphicAudio.net and via the FREE GraphicAudio Access™ Mobile App which allows customers to directly download titles on their Android or iOS smartphones and tablets. GraphicAudio works closely with Marvel on a regular basis and recently received one of the Best Audio Dramas of 2014 accolade from AudioFile Magazine for IRON MAN: EXTREMIS.
About the Author: Myke Cole is a fantasy novelist that uses his extensive background in law enforcement and the military to fuel his creativity. As a security contractor, government civilian and military officer, Myke Cole's career has run the gamut from Counterterrorism to Cyber Warfare to Federal Law Enforcement. He's done three tours in Iraq and was recalled to serve during the Deepwater Horizon oil spill. He is also very loud.
About GraphicAudio® A Movie in Your Mind®: An imprint of The Cutting Corporation, since 2004, GraphicAudio® has published approximately 1000 titles and 65 different series in their GraphicAudio® A Movie in Your Mind® audiobook entertainment format. For more information visit: http://www.graphicaudio.net