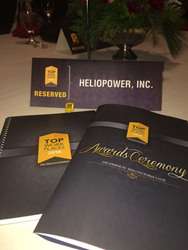 We are a 'people-first' company and I am very honored and happy to accept a Top Workplace spot for HelioPower! - HelioPower Solar President, Scott Gordon
Murrieta, CA (PRWEB) January 06, 2015
HelioPower, Inc., an integrated energy solutions and solar provider based in Murrieta, CA was honored by Press Enterprise and the Top Workplace program as one of the Top 20 Workplaces in all categories and the Number One Top Workplace for Energy Companies for the Inland Empire (Riverside County and San Bernardino County) in Southern California. The Top Workplace awards are based on anonymous input from more than 3100 employees across the Inland Empire companies. The awards assess businesses of all sizes based on 22 survey statements such as compensation, benefits, job satisfaction, and social responsibility.
"HelioPower has an amazing group of very smart, talented and dedicated employees that understand HelioPower's vision of delivering the absolute best solar service possible to our customers," said HelioPower Solar President Scott Gordon. "More importantly, we have a company culture that focuses on matching solar solutions to real customer needs, as opposed to a one-size-fits-all approach. We are a 'people-first' company and I am very honored and happy to accept a Top Workplace spot for HelioPower!"
HelioPower Residential Solar Service is the preferred and trusted Residential Solar Partner for more than 4,500 homeowners, as well as companies like Sharp, Chevron, Sony, Safeway, Porsche, SDGE, Ronald McDonald House & Bob's Big Boy to name a few. HelioPower's Director of Marketing, David Schooley said, "I joined HelioPower Solar because of their culture of customer service and high ethical standards to do right by their customers and allow their employees to flourish in their careers! You have to like a company of happy and loyal employees that helps people and companies go green, and has saved thousands of homeowners millions of dollars!"
About HelioPower, Inc.
HelioPower Solar Service is an integrated energy solutions company with more than 4,500 solar and clean energy systems engineered and installed. Founded in 2001, HelioPower's mission is to reduce energy costs and develop energy assets by leveraging renewable energy production, demand side management, and return on investment strategies for clients in the U.S. and abroad. For more information, please visit http://www.HelioPower.com.
####