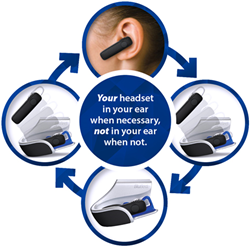 BluBed is the solution that signals the beginning of the #HandsfreeEverywhere Liberation Movement," said David Hurwitz, Innervoice Innovations founder and president..
LAS VEGAS (PRWEB) January 06, 2015
Innervoice Innovations, a wearable technology startup, today introduced BluBedTM, the world's first Bluetooth® headset holster. BluBeds are ideally suited for heavy mobile calling users, including salespeople, consultants and other on- the-go professionals. BluBed holsters securely clip to virtually any article of clothing or bag, and offer instantaneous access to headsets. A headset in a BluBed holster enables people to be #HandsfreeEverywhere as they handle calls throughout the day.
Americans make an average of 12.3 mobile phone calls per day, according to Pew Research. Each one can be physically inconvenient. In-ear Bluetooth headsets promise relief, but suffer from the lack of a home-base that moves with their owner. Enter the BluBed, a stylish and lightweight accessory that enables people to remove their headset as soon as a call is completed, yet keep it at the ready for the next moment it's needed. BluBeds enable this revolutionary #HandsfreeEverywhere experience in the car, on foot or at the office.
"Most people need immediate access to phone calls during the day, especially mobile professionals. Yet they are forced to struggle with holding a phone to their ear, or being literally tethered to it via wired earbuds, or searching for their headset. Thus they can't easily multitask while on calls. BluBed is the solution that signals the beginning of the #HandsfreeEverywhere Liberation Movement," said David Hurwitz, Innervoice Innovations founder and president. "Three billion mobile phone calls are made in the U.S. every day, each fraught with hassle, discomfort and wasted time. The BluBed is a profoundly simple, missing-link product that will eliminate that hassle, remove that pain and give significant time back to those callers. Now people can quickly make and receive calls while on-the-go—including those that close a deal or make them heroes with their clients."
The Call for a True #HandsfreeEverywhere Solution
The research firm of Strategy Analytics estimates that 13 million Bluetooth headsets were sold in the United States in 2013, and forecasts that number will exceed 15 million by 2017. Based on this, the BluBed addresses key headset usability issues faced by a huge and growing market. People overwhelmingly don't want to wear a headset all the time, but find it difficult to locate them quickly, or lose them altogether when not in their ear.
Hurwitz invented the BluBed after becoming frustrated with the hassle of locating his Bluetooth headset over the course of a busy day. While he appreciated the promise of handsfree telephony while striding through airports, heading to meetings, walking his dog or sitting at his desk, he found the headset's lack of a handy home to be a major problem.
Millions of Bluetooth Headset Users Can't Be Wrong
Consumer research, conducted in June 2014, shows that Hurwitz is not alone. It revealed that for every current Bluetooth headset user, there are five former users that gave up on them because of physical usability issues. BluBeds solve those problems, enabling millions of past and present Bluetooth headset users to fully realize the promise of #HandsfreeEverywhere telephony.
Compatibility, Personalization & Availability
BluBeds are compatible with most leading in-ear headsets, including Plantronics Voyager Edge, M165 Marque II, M155 Marque and Savor; Samsung MH1700; and Jabra Mini models. They are sold with three interchangeable headset Capture Clips of varying sizes.
BluBeds are instantly personalized through interchangeable BluBed BedcoversTM. Each BluBed comes with Bedcovers in black, white and robin-egg blue. Bedcovers in additional colors will be available shortly. Further, companies and clubs can order branded BluBeds with their logo imprinted on custom Bedcovers.
BluBeds can be purchased at BluBed.com or leading retailers for $19.95 each. Organizations looking to brand BluBeds for their employees or as promotional giveaways can also order them
at BluBed.com.
Press inquiries regarding the BluBed and Innervoice Innovations should be directed to Trujillo Public Relations: Sara Trujillo, 914-948-4979, sara@trujillopr.com, or Doug Wright, 201-952-6033 or BigDougNJ@gmail.com.

About Innervoice Innovations, Inc.
Innervoice Innovations, Inc. is a wearable technology startup based in the heart of Silicon Valley. Innervoice's first product is the BluBedTM, the world's first Bluetooth® headset holster. BluBeds enable #HandsfreeEverywhere by transforming the physical awkwardness of talking on the phone into a sleek and carefree experience. Founded by CEO David Hurwitz, Innervoice is focused on elegantly designed, wearable technology solutions for everyday challenges.
BluBed.com •
Facebook.com/BluBedHolster •
@BluBedHolster