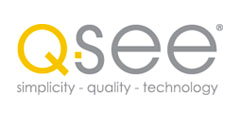 This year will mark the fourth straight year that Q-See has attended CES
LAS VEGAS, NV (PRWEB) January 06, 2015
This year, surveillance system retailer Q-See is attending the International Consumer Electronics Show (CES), which will take place in Las Vegas from Jan. 6 to Jan. 9, and renting a private suite at the Venetian hotel. During the event, Q-See will be welcoming buyers who have made advance appointments to visit the suite, where they can discover the changes that Q-See has recently made to its brand. Q-See has launched a new mobile application and updated its brand identity, and the suite exhibit will allow buyers to look over the company's new branding in a sleek display and interact with the new mobile app at a tablet-equipped table. The private suite will also feature a working Q-See surveillance system and a point of purchase display, where buyers can compare or purchase select surveillance systems. Current Q-See clients can contact their account managers to set up their appointments at the private suite.
This year will mark the fourth straight year that Q-See has attended CES and exhibited with a booth or a suite. Last year, the huge consumer technology and electronics trade show drew more than 50,000 exhibitors and 160,000 attendees, with more than 3,000 exhibits displayed on more than 2 million square feet of space. Many exhibitors chose to use the international event to introduce changes or new concepts, like Q-See is doing this year. In 2014, more than 20,000 new product announcements were made over the course of the event. The trade show gives exhibitors exposure to other industry professionals on a global scale as well as a chance to impress existing clients. This year, in light of all the changes that Q-See has made, the company is focusing on introducing current clients to its new brand. Q-See has recently undertaken various steps, from consolidating its corporate and e-commerce websites to changing the displays and messaging inside physical store locations, to create a more modern image and brand identity, which will be featured at the CES suite.
About Q-See
Q-See is a leading provider of surveillance systems for both home and business settings; the company offers professional-quality security cameras, digital recorders, wireless surveillance systems, and other accessories, all outfitted with industry-leading features. Q-See specializes in selling user-friendly products and gives buyers extensive resources, from online instructional videos to free lifetime technical support, that make installing and using the company's advanced systems simple. Q-See's products are sold internationally and can be bought online, in storefront locations, or through partner distributors. To learn more about Q-See and the company's surveillance solutions, please visit Q-See.com.