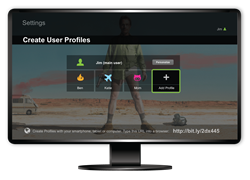 LAS VEGAS, NV (PRWEB) January 06, 2015
UXP Systems is collaborating with Ericsson to enable operators to deploy the MINT Unified Services Platform on Ericsson Mediaroom IPTV platforms. With MINT, operators can simplify next generation user access and onboarding, and create universal profiles for personalized experiences, allowing them to deliver engaging viewing experiences for customers. This combined solution enhances the operator's ability to monetize next generation services, provides a consistent, personalized user experience across all screens, and maximizes their competitive posture in the markets they serve.
MINT works across both Ericsson Mediaroom and Ericsson Mediaroom Reach platforms today, providing a converged user experience across all devices. These new capabilities will:

Add flexible User Access Management capabilities for frictionless customer journeys
Embrace new user options supporting Freemium models and Guest Accounts without changes to existing BSS/OSS infrastructure
Provide Universal User Profiles, delegated access and hierarchy management for all members of the household across all services and devices
Provide all of these benefits to new and existing Mediaroom solutions today
Be available through Ericsson globally
"The collaboration between Ericsson Mediaroom and UXP Systems' MINT Unified Services Platform empowers Ericsson to provide operators with the most compelling TV services. Personalization will be at the forefront of the viewing experience, allowing users to create their personal profiles, receive video on demand recommendations, and blend cloud services into their TV profiles," said Ben Huang, Vice President of Marketing of Product Area Mediaroom at Ericsson.
"Ericsson Mediaroom is leading the way in terms of personalization and integrating traditional content with over-the-top content. However, many operators still don't have the flexibility in their back-office subscriber platforms to accommodate OTT user onboarding, create user profiles and integrate personal cloud services into IPTV," said Jim MacDonald, VP Sales & Marketing at UXP Systems. "By combining the MINT Unified Services Platform with the world class Ericsson Mediaroom platform, operators can transform offerings and provide integrated, user-centric experiences across any screen."
Integrated Offering Delivers Next Generation, Personalized Services Now
UXP Systems' MINT Unified Services Platform provides a framework for enabling the complete management of user profiles with the operator's existing BSS/OSS and Identity Management solutions via its User Lifecycle Management engine. An extensive library covers hundreds of use cases to manage the full lifecycle of a user's profile from onboarding to personalization. A second key module, the MINT Multiservice Gateway, allows the binding of any network service to these user profiles, allowing the operator to create and manage a 360-degree view of every user across all services, enabling an integrated and personalized user experience on any screen.
Ericsson Mediaroom is the industry-leading IPTV platform, deployed by 66 global operators in 34 million set-top boxes. The latest Ericsson Mediaroom release elevates the TV viewing experience, delivering a host of new consumer-oriented capabilities which empower operators to deliver the highest quality live, video on demand (VOD) and time-shifted television experiences. New features include "Restart TV" as a core experience; unified search functionality offering consumers unparalleled levels of simplicity when discovering Pay TV content; an enhanced user interface that maximizes full-screen viewing; and a new, visually rich channel guide. Ericsson Mediaroom Reach, born out of Ericsson's acquisition of Azuki Systems earlier this year, enables the deployment of over-the-top video to any device.
Visit (http://www.uxpsystems.com/ericsson) to learn more about the solution
About Ericsson
Ericsson is the driving force behind the Networked Society — a world leader in communications technology and services. Our long-term relationships with every major telecom operator in the world allow people, businesses and societies to fulfill their potential and create a more sustainable future. Our services, software and infrastructure — especially in mobility, broadband and the cloud — are enabling the telecom industry and other sectors to do better business, increase efficiency, improve the user experience and capture new opportunities.
With more than 110,000 professionals and customers in 180 countries, we combine global scale with leading technology and services. We support networks that connect more than 2.5 billion subscribers. Forty percent of the world's mobile traffic is carried over Ericsson networks, and our investments in research and development ensure that our solutions and our customers stay in front.
About UXP Systems
UXP Systems' award winning MINT Unified Services Platform powers user-centric experiences for operators like TELUS, Rogers, Columbus Communications and Cable Bahamas, simplifying their customer access journeys, while unifying and personalizing the service experience for every user, across all operator core and cloud services. With its groundbreaking User Lifecycle Management capabilities, MINT innovates above existing legacy systems to transform the operator user experience, enabling frictionless user registration and device on-boarding, new acquisition models, individually delegated user access, and universal personalized user profiles across all screens and services. For more information, please visit: http://www.uxpsystems.com.
###
UXP Systems Media Contact
Jim MacDonald
VP, Sales & Marketing
T: +1 416-358-1540
E: jim.macdonald@uxpsystems.com
Ericsson Media Contact
Ericsson Corporate Communications
Phone: +46 10 719 69 92
E-mail: media.relations@ericsson.com