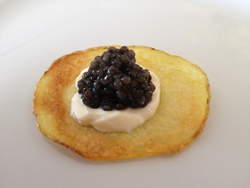 Mirepoix USA, the leading online purveyor of gourmet foods, is offering three tasting events featuring some of the world's most expensive and sought after luxury foods.
Reno, NV (PRWEB) January 06, 2015
Mirepoix USA, the leading online purveyor of gourmet foods, is offering three tasting events featuring some of the world's most expensive and sought after luxury foods. The luxury food tasting series will include: Truffles, Caviar and Champagne Tasting on Saturday, January 10, Free Foie Gras Tasting on Monday, January 12, and Ibérico Ham Carving Demonstration and Tasting on Tuesday, January 13. The events take place during the San Francisco Fancy Food Show.
Mirepoix USA founder, Laurel Pine stated, "Our luxury food tasting series offers both experienced connoisseurs and aspiring foodies a unique opportunity to sample luxury foods such as caviar, truffles, foie gras and Iberico ham, and learn about the products directly from the finest producers in the industry."
The first event, Truffles, Caviar and Champagne Tasting, will feature passed appetizers including: Black River Russian Caviar on Homemade Potato Chips with Crème Fraiche, Focaccia with Melted Taleggio Cheese and White Truffles, Caviar served on a Mother of Pearl Spoon, Sea Scallops infused with Black Truffle, and Baby Potatoes with Duck Bacon, Truffle Butter and Black Truffle.
Olga Urbani, the President of Urbani Tartufi in Italy, will speak about truffles and the fascinating Urbani Tartufi story. Urbani Truffles is the largest truffle company in the world, and under Olga's leadership, the company has made a phenomenal impact on the industry. Graham Gaspard, President of Black River Caviar will speak about caviar and the unique "wild raised" farming process utilized by Black River Caviar in Uruguay. Black River Caviar's product is smooth, creamy, and fresh tasting, and rivals wild caviar.
On Monday, January 12, California foie gras fans will have the rare opportunity to sample a variety of appetizers featuring the delicacy banned for sale or production in the state of California. In order to comply with the ban, the event will have no cost associated with the event. Preparations include some of Laurel Pine's easy-to-prepare favorites such as: Toasted Brioche with Foie Gras and Pear Currant Chutney, Foie Gras with Coffee Balsamic Glaze and Cocoa Nibs on Crostini, Seared Foie Gras with Chipoltle Orange Sauce, Orange Segments, and Fresno Chili Salsa, and Foie Gras Ice Cream on Ginger Snaps with Aged Traditional Balsamic Vinegar from Italy. To be considered for participation in Mirepoix USA's Free Foie Gras Tasting, an original foie gras recipe must be submitted by email to info@enjoyfoiegras.com.
The final event of Mirepoix USA's Luxury Food Tasting Series will be a an exclusive Cinco Jotas (5J) Jamón Ibérico carving demonstration and multi-course tasting with paired wines.
"When we decided to add Iberico ham to our product offerings, we researched and tasted all the Jamón Ibérico currently available in the US, and concluded without hesitation that Cinco Jotas (5J) is the finest producer of this incredible masterpiece of culinary indulgence." Pine continued, "The history of Cinco Jotas, which began in 1879, as well the farming methods used to produce this exquisite product, is fascinating. The story of this unique luxury food will be revealed during our carving demonstration and tasting event in San Francisco."
According to Mirepoix USA, 5J is the only producer using 100% Pure Ibérico breed pigs (Pata Negra). Other producers do not guarantee the absence of cross breeding. 5J's black pigs are naturally raised on acorns and aromatic herbs in the heart of the Iberico Peninsula in free-range conditions with nearly 5 acres of land per pig. The result is a delicately marbled ham of unparalleled quality and flavor, with a distinctive nutty sweetness sought after by connoisseurs and 5-star chefs alike.
Mirepoix USA's Jamón Ibérico event, will feature a special carving demonstration by a 5J Master Carver with decades of experience. According to Pine, participants will have a rare opportunity to compare the flavor profile of the front leg and back leg, and taste several courses featuring this exceptional ham, paired with premium wines.
Once seated, there will be four courses served at the tasting: Cantaloupe soup with Jamón Ibérico, Basil, and Cypress Black Salt; Endive, Marcona Almond, and Grape Salad with Sherry Vinaigrette and Jamón Ibérico; Crostini with Slow Cooked Onion, Heirloom Tomato Pulp, and Jamón Ibérico; and Wafer with Jamón Ibérico, Medjool date, and Spanish Cheese Ice Cream.
Mirepoix USA's Luxury Food Tasting series will be held at 77 Maiden Lane in San Francisco, CA. For ticket purchases and information, visit http://www.enjoyfoiegras.com or call 866-992-9559. The ticket price is $139 for the Truffle, Caviar and Champagne Tasting and $149 per person for the Jamón Ibérico Carving Demonstration and Tasting. Reservations are required for all events, as space is limited.
# # #
About Mirepoix USA
Mirepoix USA sources the highest quality specialty gourmet foods from manufacturers and importers across the United States. The company began marketing foie gras and other traditional French foods in 2004, and currently offers over 40 foie gras selections, fresh truffles, caviar, Wagyu beef, Iberico ham, domestic and imported cheeses, and a wide selection of gourmet gift baskets and gourmet food. In 2012, Mirepoix USA began offering live tasting events in the US and food and wine tours in Europe and the US.