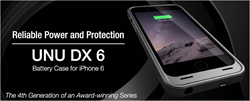 ...The DX-6 comes in good timing with the recent release of the iPhone 6 and will certainly be the most useful accessory for it. Said Sen Cai, Founder and CEO of UNU Electronics
Las Vegas, NV (PRWEB) January 06, 2015
UNU Electronics, your most reliable and world's fastest power source, reveals its next generation DX-6 Series made for the iPhone 6 at CES today. The DX-6, along with the industry's fastest-charging portable battery, the Ultrapak GO/TOUR and Superpak, the smallest and lightest 10,000mAh portable battery will be showcased at UNU's booth located in the Las Vegas Convention Center, South Hall 4, Booth 36200.
"UNU addresses the battery consumption challenge for smartphones and other mobile devices in constant need of power. The DX-6 comes in good timing with the recent release of the iPhone 6 and will certainly be the most useful accessory for it," said Sen Cai, founder and CEO of UNU Electronics. "UNU aims to stay on top of the game and deliver the best technology and design for advance portable power solutions."
The DX-6 is UNU's newest installment of the award-winning DX Series. Featuring over 5 years worth of research and development, the DX-6 is the latest in battery case technology. It is specifically designed to enhance the native look and feel of the iPhone 6, featuring a slim profile and an ergonomic form-factor and a certified 'Made for the iPhone' product. Equipped with a powerful 3000mAh battery cell, the DX-6 adds more than 125% power to the iPhone 6. The additional power yields 18 hours of talk-time, 14 hours of web browsing and a hefty 313 hours of standby time. It comes in three colors: Black, White and Red. It will be available at the http://www.myunu.com, Amazon.com and noted online retailers by the end of January 2015. MSRP: $79.95
UNU Electronics at CES 2015
UNU's showcase at CES 2015 is located in the Las Vegas Convention Center, South Hall #36200 (co-exhibiting with ERG). Registered media, gadget reviewers and analysts are invited to visit the booth and sign-up to get on the priority list to received DX-6 review samples. For those unable to attend CES, simply email UNU's Media Contact below.
The company is currently booking in-depth meetings with UNU executives throughout the CES week. For more information, please reach the Media Contact below.
About UNU Electronics
UNU Electronics Inc. is a global manufacturer and distributor of mobile-electronic accessories. It is the most reliable power source in the market. UNU's unwavering belief in creating innovative designs, delivering reliable products, and providing exceptional customer service have made us one of the biggest leaders in mobile power accessories. Based in Union City, CA with international production facilities, UNU products are available through our website as well as key online and retail partners like Amazon.com, Newegg.com, Buy.com, Best Buy, Costco, and Office Depot. For more information visit us online at http://www.myunu.com.
Visit our other social media websites and follow us:
Facebook: http://www.facebook.com/UNUcases
Twitter at http://www.twitter.com/UNUcase
YouTube: http://www.youtube.com/user/unucase
Pinterest: http://www.pinterest.com/unucase/
Instagram: unucase
All other trademarks, trade names, brand names, company names and/or logos appearing on this news announcement are the property of their respective owners.
###
Media Contacts:
Elizabeth Estrella-Basilio
PR for UNU Electronics, Inc.
Cross Border Communications
elizabeth(at)crossborderpr(dot)com
408-348-7538