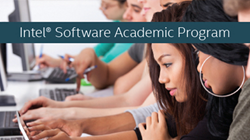 (PRWEB) January 11, 2015
A new case study shows how, as part of Intel's commitment to enabling energy-efficient software, the Intel® Software Academic program recently rewarded the university students most successful in a challenge to optimize code for low energy consumption. More than 150 students participated, submitting 3,483 programs during the 15-day contest. Eight entries were awarded Lenovo Yoga* 2 Pro Convertible 2-in-1 PCs.
As applications run on more varied, lightweight platforms, energy efficiency continues to become more important. Mobile and embedded platforms have multiplied in recent years, and the trend is poised to accelerate dramatically with the emerging Internet of Things.
The program being optimized in the contest provided all possible solutions to a logic puzzle, based on a piece of example code provided by the contest organizers. Participants were also with tutorials, tools, and reference materials, to help build long-term benefits in terms of coding expertise.
Teams used the Intel® Software Development Assistant to take energy-consumption measurements from their applications during execution, helping them tune their code. To identify the contest's winners, the results of their efforts were assessed using metrics gathered the Intel® Energy Checker, which measures the "power at the wall" consumed and work performed by servers on finished applications. Both tools are provided free of charge to members of the Intel® Developer Zone.
Using sophisticated tools and techniques provided to them through the contest and the Intel Software Academic Program, the entrants achieved outstanding results. In fact, the contest's most successful entries consumed up to five times less energy than the reference solution.
The Green Coding Contest 2014 is one example of the innovation being fostered by Intel to enable the next generation of programmers to provide intelligence from technology, with an eye toward energy conservation.
For more information on the Intel® Software Academic Program, please visit: https://software.intel.com/en-us/academic.
Copyright © 2014 Intel Corporation. All rights reserved. Intel and the Intel logo are trademarks of Intel Corporation in the U.S. and/or other countries.
*Other names and brands may be claimed as the property of others.