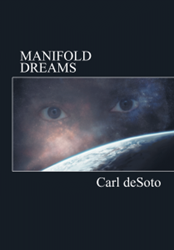 deftly combines science fiction with the story of a young man coming to maturity with humor and action.
AUSTIN, Texas –
(PRWEB) January 07, 2015 -- When young Manik of the Clan Kaer awakens on the morning of his 17th birthday, he is filled with dread; he is scheduled to attempt the trial that will allow him to be recognized as an adult within his clan this day. Again. When he fails the physical challenge, notes this new novel, his disappointment and anger lead him to stow away on an Orbital transport ship, which carries him off to an adventure of a lifetime.
Manik finds himself under the care of Dr. Selelle Deepheart after he narrowly escapes serious injury when the ship nearly kills him. Selelle and her crewmates take Manik in under the command of Captain Fujiwara, an earthborn man whose intimidating presence keeps order upon his ship. The captain decides that Manik's sentence for stowing away will be to serve as pilot for the ship, a position fraught with danger, but Manik will receive assistance in the form of SID, the ship's artificial intelligence. Together, Manik and his shipmates transverse the universe, encountering peril and visiting places he had never dreamed existed. Can Manik and his crew survive the hazards of space travel, and will Manik ever see his clan again?
"Manifold Dreams" deftly combines science fiction with the story of a young man coming to maturity with humor and action. Manik's exploits in this universe will keep readers on the edge of their seats, and author Carol deSoto's imaginary world is absolutely fascinating. DeSoto is a graduate of San Jose State University with a degree in cultural anthropology. His love of role-playing games and his desire to write his own science fiction role-playing game fostered the writing of the book, his first novel.
----------
For additional information, please visit http://www.manifolduniverse.com
Manifold Dreams
Carl deSoto
Dog Ear Publishing
ISBN: 978-1-4905-8277-1 320 pages $14.95 US
Available at Ingram, Amazon.com, Barnes & Noble and fine bookstores everywhere.
About Dog Ear Publishing, LLC
Dog Ear Publishing offers completely customized self-publishing services for independent authors. We provide cost-effective, fast, and highly profitable services to publish and distribute independently published books. Our book publishing and distribution services reach worldwide. Dog Ear authors retain all rights and complete creative control throughout the entire self-publishing process. Self-publishing services are available globally at http://www.dogearpublishing.net and from our offices in Indianapolis.
Dog Ear Publishing – self-publishing that actually makes sense.